TracTuff Catch Can - Universal Horizontal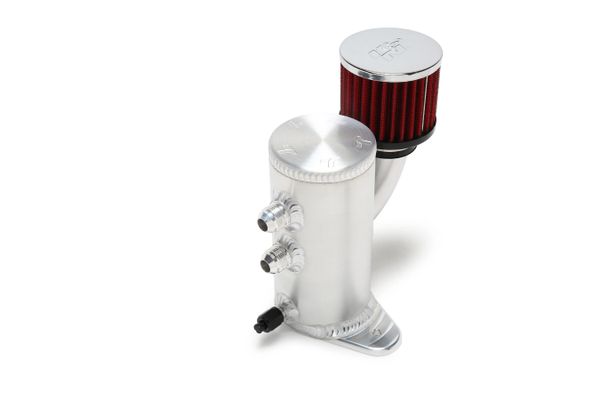 TracTuff Catch Can - Universal Horizontal
Catch can... breather... crank case vent... these are all names for the same thing! 

Most, if not all universal catch cans, leave a little more to want. I rarely see the correct number of fittings for the application or they don't offer the option of mixing AN and/ or slip hose... or the fittings are pointed in wrong direction in relationship to the mounting and it can be a real bummer.
This version of the universal catch can uses a unique tank base with an integrated mounting hole that allows for mounting on any horizontal surface with (lid and filter location shown are not included) a threaded hole. You can configure every aspect of the design as if you were welding it up yourself; you get to choose from different heights, different diameters and either AN or slip hose connections or BOTH in a number of size options as well as choose the clocking of the drain so that works for your location. Includes a with a chrome top and a 1.50" clamp. I highly recommend that you measure the space you have a choose accordingly; the billet cap, base, and filter add 3.50" to the height to the tank height you choose.
If you are interested in more universal mounting options, please see the Catch Can Universal Vertical listing. 
NOTE: Made to Order - Contact for ETA - If you are interested in a specific design that varies from this, please email us at sales@tractuff.com. If you have questions related to the configuration or options... PLEASE visit the WHATS WHAT or FAQ page. The product in the photo is completely custom... you will not be getting what is shown, its just an example The images are used to show the base plate. Remember that the OEM brackets associated with the Application Specific Catch Can can sometimes be used in other applications and in other places.

Reviews