TracTuff DIY Swirl Tank Kit - Remote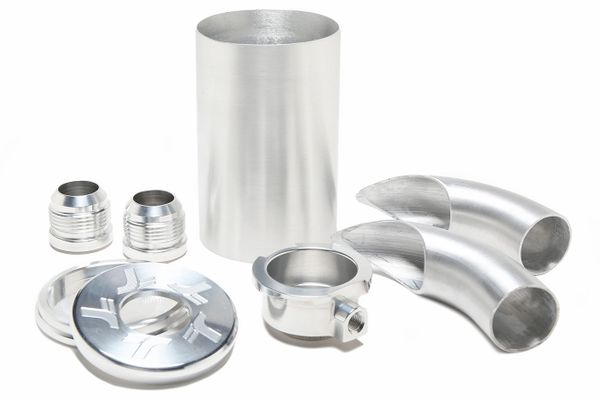 TracTuff DIY Swirl Tank Kit - Remote
The DIY Remote Mount Swirl Tank is the go to kit for those congested engine bays that wont allow for the direct mounting to the water neck. Simply find the most convienent location, point the inlet and outlet in the direction they need to face and route the hoses accordingly!
The kit includes billet tank top, bottom, radiator cap bung as well as either 2) 1-3/8" (for AN connection) or 2) 1-1/4" (for HOSE connection) 90° aluminum tank outlet/inlet which have been notched for a perfect fit against the tank. If you have chosen the AN connection type... the -16 bung is a perfect match to the OD of the 1-3/8" tubing. The radiator cap bung is meant to be inserted from the top and welded from the back-side of the tank lid for a clean appearance.
The domestic cap bung has a 1/8" NPT port and the import version has a 1/16" NPT for connection to an overflow. The domestic version uses any early model (mid 70's through late 80's Chevy) cap and the import version uses early model Honda (88'-91' Civic/ CRX and 90'-93' Integra) cap.