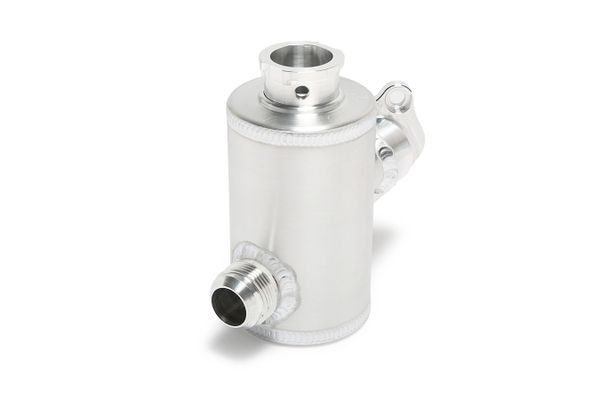 TracTuff H22 Fill Pot
A fancier version of the filler neck. Instead of a vertical tube being welded to the water necks horizontal outlet, a cylinder is fabricated, which interrupts the flow of water (essentially asking the coolant to jump from the entry of the tank to the exit of the tank) which slightly improves the products ability to intercept and collect passing air. The small bump in volume as well as the ability to add sensor bungs and/ or accessory ports makes the fill pot a popular choice!

The fill pot starts with a beautifully machined 6061-T6 flange that incorporates the exact footprint of the OEM neck and a machined o-ring groove for the OEM gasket. You can chose from a list of options to make the product as unique as your project; including outlet position and accessory ports for aftermarket sensors and/ or turbo and wastegate feeds, as well as two different styles of radiator cap bungs. 

The domestic cap bung has a 1/8" NPT port and the import version has a 1/16" NPT for connection to an overflow. The domestic version uses any early model (late 70's Chevy C10 Pickup w/ 454) cap and the import version uses early model Honda (88'-91' Civic/ CRX and 90'-93' Integra) cap. 

NOTE: Made to Order - Contact for ETA - If you are interested in a specific design that varies from this, please email us at sales@tractuff.com. If using AN lines we also recommend designing the upper radiator hose so that there is droop/ give so the engines movement and does not push/ pull on the radiator and fatigue any parts. The tank is welded so that it sits level when bolted to an engine with a 10.5° lean back (traditional) or 4.2° lean forward (QSD H2B).
Reviews