TracTuff J Series Billet Water Neck w/ Fill Point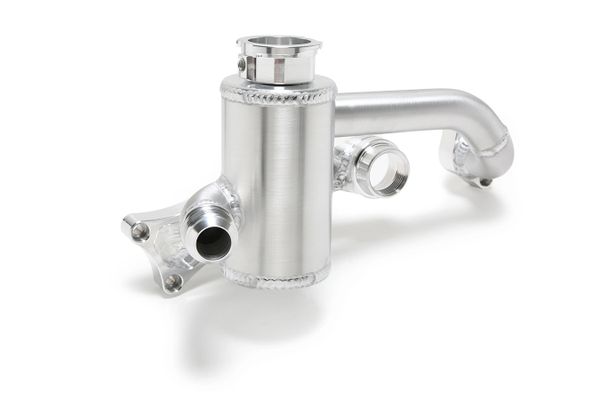 TracTuff J Series Billet Water Neck w/ Fill Point
So you own an EG, EK, or DC2 and you've swapped in a J Series... almost everything is right where you want it! Everything except for that MONSTROSITY of a water neck starring back at you. Enter the TracTuff J Series billet water neck flanges that that do what no others do... hold the water cross-over tube that leads to the water pump!
The J Series billet water neck flanges were designed to be the premiere water neck solution on the market! The flanges can be used as is or used to fabricate pretty much anything you can dream up. The product represented here is just one concept and in time... I'm sure there will be more (just look at our K Series options).
The combo shown is the most compact version I will likely make. It incorporates similar features as our popular swirl tanks but it is not, the inlets to the tank enter in two different directions, which don't exactly create the same swirl effect (maybe it does?) but it does allow for both the front and rear coolant passages to be connected as well as offers a fill point that is sure to be the highest point in your cooling system.
Options are abundant but if you dont see something specific... email me. That's how this became a reality. I can add an ECT bung pretty much anywhere you want, an AN or traditional hose barb for heater core connection, or accessory ports for aftermarket gauges!
Flanges, tank end caps and radiator cap bung are all machined from US milled 6061 aluminum. The rear flange incorporates an o-ring grove while the front retains the OEM gasket. The water cross-over tube mount is machined to accept the OEM o-ring on the back-side and converts to a -16 ORB port on the front-side. The radiator cap bung uses the larger domestic style cap for the largest opening and a huge selection of cap offerings. The tubes leading to the tank are 1-1/4" and the outlet is either 1-1/4" if you are using a traditional hose connection or 1-3/8" if you are going with an AN connection.
NOTE: Made to Order - Contact for ETA - If you are interested in a specific design that varies from this, please email us at sales@tractuff.com. We also recommend designing the upper radiator hose so that there is droop/ give so the engines movement does not push/ pull on the radiator and fatigue any parts.