TracTuff J Series M28 Adapter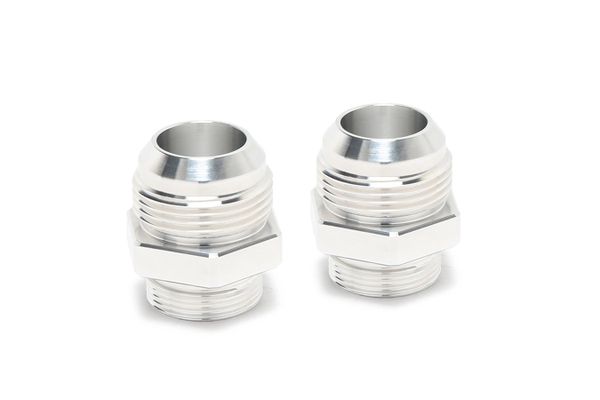 TracTuff J Series M28 Adapter
The J series billet water neck flanges are awesome pieces but they don't work for everybody. In those instances where the flanges don't fit... or if you are not interested in having a solution for holding the water pumps feed tube, I offer these gems! 
My M28 adapters thread directly into the J series cylinder head (yes I said DIRECTLY) and use Genuine Honda aluminum crush washers to seal against the cylinder head. The threaded ports allow for a compact plumbing solution for both outlet, where space between the heads and the firewall is a premium! My adapters and convert the port to a -16 male flare so you can plumb the two cylinder heads to a remote mounted fill pot or swirl pot.
NOTE: This solution does not address the water pump inlet tube. I am working on a solution right now and should have a product by mid July 2020. Merging the two lines at the back of the motor, near the firewall, will insure this is the highest point of the cooling system. Lines are likely to move to the front of the vehicle at a gradual slope, potentially creating a pocket of air that will not move to an alternate fill point. Email sales@tractuff.com today for a custom solution.

Reviews