TracTuff K Series No Angle Oil Pan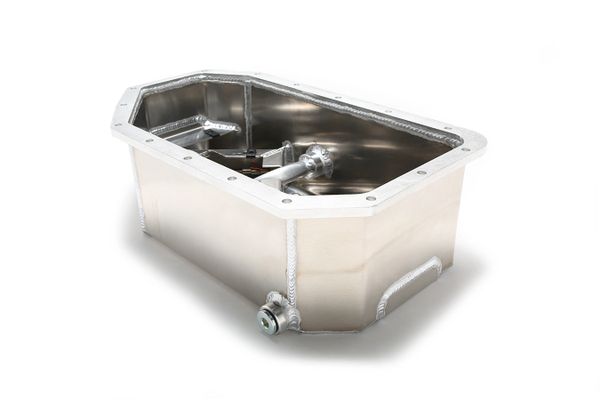 TracTuff K Series No Angle Oil Pan
After years of cutting up and converting OEM pans to work in no angle (engine sits straight up and down) environment's... I have decided to put that time and effort into custom fabricated sheet aluminum offerings. The driving force behind bringing this to market, simply came down to time, time I really didn't have to convert off the shelf pans into something similar. Time that costs customers BIG to cut up and recreate a version of what you see here. So when you are short on time... you produce product not repurpose it.
The design and fabrication of this specific oil pan focuses on engines used in sand rail's, dune buggy's, and/ or any application's with more ground clearance than traditional automobiles. The pan in these images measures 6-1/8" deep, holds 6.5 qts at the baffle level, and 12 qts at the pan rail weld. It was designed to be filled to 10 qts. which keeps oil away from the rotating assembly and uses our external wet sump oil pump. The baffle is unique to the external pump and provides greater oil control than traditional setups with the pump still in the pan.
I will be offering a traditional pump option w/ a hybrid baffle for those of you that don't want the added expense or packaging needs to accommodate for an external wet sump pump. However, it will require the purchase of my Remote Pickup Kit to change the angle of the pickup tube as well as enter the baffle properly.
The sheet aluminum oil pan is CAD designed, CNC machined, CNC formed, and tig welded by hand! The baffle construction is unique and has worked extremely well in controlling oil movement in all directions. The shell is welded to both sides of the CNC machined 3/8" pan rail and provides a perfect fit. The pickup exits the pan to a -12 ORB bung and the drain is located in the right front corner. The pan includes a full coverage bolt-in horizontal tray, installation hardware and only weighs 8.2 lbs. 
Reviews