TracTuff PRB/ PRC Billet Water Neck w/ Fill Port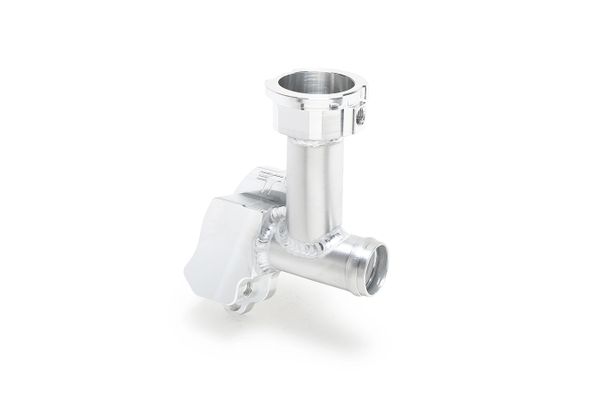 TracTuff PRB/ PRC Billet Water Neck w/ Fill Port
An inexpensive solution for all you K20A, K20A2, K20A3, K20Z1, and K24A1 engine owners looking to simplify your cooling system! Weather you have added a radiator that does not have a radiator cap bung... or you are in need of a higher fill point, we've got you covered. Dont settle for stuff that sits crooked!
The filler neck starts with a beautifully machined 6061-T6 flange that incorporates the largest port possible within the OEM gaskets footprint as well as a 1/2" NPT water bypass port and machined o-ring groove for the OEM gasket. You can chose from a list of options to make the product as unique as your project;  including sensor ports for oem or aftermarket sensors, hose connection type and radiator cap bung type.
All billet parts are CNC machined from US milled 6061 aluminum. The domestic cap bung has a 1/8" NPT port and the import version has a 1/16" NPT for connection to an overflow. The domestic version uses any early model (late 70's Chevy C10 Pickup w/ 454) cap and the import version uses early model Honda (88'-91' Civic/ CRX and 90'-93' Integra) cap. 
NOTE: Made to Order - Contact for ETA - If you are interested in a specific design that varies from this, please email us at sales@tractuff.com. If using AN lines we also recommend designing the upper radiator hose so that there is droop/ give so the engines movement and does not push/ pull on the radiator and fatigue any parts. The billet neck has a 1/2" NPT port on the bottom side so you can choose to reconnect the factory water bypass hose (hose fitting option) or you can delete it (plug option), I recommend you keep it but its entirely up to you! Filler is welded so that it sits level when bolted to an engine with a 15° lean backwards (exhaust side) or an 8° lean forward (intake side). Depending on your fuel line routing, this may require you to make changes.