TracTuff PRB/ PRC Billet Water Neck w/ Swirl Tank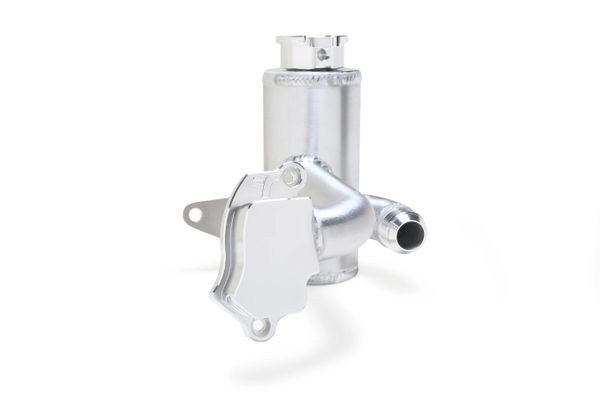 TracTuff PRB/ PRC Billet Water Neck w/ Swirl Tank
We sell a lot of billet water necks and DIY swirl tanks, occasionally we build combos that get a lot of attention on social media... sending a flood of DM's, PM's, and email's our way... here is one of them.
Our billet water neck is machined from US milled 6061 aluminum and incorporates an OEM o-ring grove on the mating surface and a 1/2" NPT water bypass port. The swirl tank lid and bottom are also machined from US milled 6061 aluminum with a step that fits perfectly inside our 3" tubing. The radiator cap bung uses the larger domestic style cap for the largest opening and huge selection of cap offerings. We either use 1-1/4" or 1-3/8" tubing depending on the type of connection you request and we can add Temp Gauge bungs on request.
NOTE: Made to Order - Contact for ETA - If you are interested in a specific design that varies from this, please email us at sales@tractuff.com. If you have swapped the angled version of the exhaust camshaft sensor to the straight version, you will need to switch back. We also recommend designing the upper radiator hose so that there is droop/ give so the engines movement does not push/ pull on the radiator and fatigue any parts.