TracTuff RBB/ RBC Billet Water Neck w/ Swirl Tank & Overflow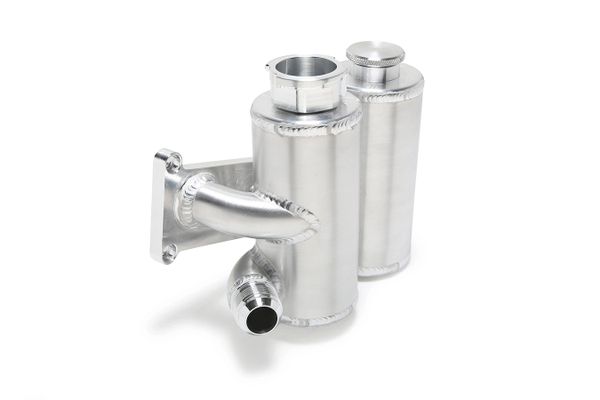 TracTuff RBB/ RBC Billet Water Neck w/ Swirl Tank & Overflow
Our RBB/ RBC swirl tank with integrated overflow eliminates the need to route an overflow hose to the core support or frame rail. Original heater port cannot be used due to the configuration but a hose barb or AN bung can be added to the exposed side of the swirl tank on request. 
Our billet water neck has the largest port allowed for the best flow within the OEM gaskets footprint and has 1/2" NPT heater port. All billet parts are CNC machined from US milled 6061 aluminum. The radiator cap bung uses the larger domestic style cap for the largest opening and huge selection of cap offerings. 
NOTE: Made to Order... usually a 2-3 day lead time - Contact for ETA - The intake cam sensor must be swapped to the version that points up in order to  clear the tank. If you are interested in a specific design that varies from this, please email us at sales@tractuff.com. If using AN lines we also recommend designing the upper radiator hose so that there is droop/ give so the engines movement and does not push/ pull on the radiator and fatigue any parts. Tank is welded so that it sits level when bolted to an engine with a 15° lean back (exhaust side).

---
1/1/19 Update: Due to the additional weight and stress placed on the brackets and braces, a plinth will be added at each location to distribute the load and increase strength.