TracTuff K24Z Billet Water Neck Flange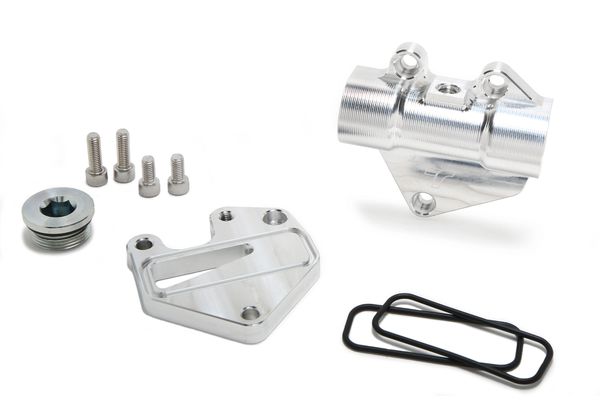 TracTuff K24Z Billet Water Neck Flange
After fielding several dozen tech questions related to air pockets, burping, and overheating problems associated with K24Z swaps, I noticed a trend.
Most of the issues seemed to have come from those that were trying to route the outlet through the passenger side (exhaust side) of the engine bay and after sitting down and dissecting the problem, I believe I found the culprit. The engines 15° tilt aims the outlet upwards when routed to the driver side (the way it was meant to exit) and aims it down when routed to the passenger side. If you look at the hoses exit... its well below the rectangle port in the cylinder head; meaning you cant get water to enter the air pocket.
If you were able to eventually fill the inherent air pocket, only to find the system acting like it needs to be burped again, you may be experiencing an air pocket that has formed as a result of normal operation and would have never collected in the head because it would have move out of the driver side and into a radiator that had a filler that was higher.
The TracTuff K24Z water neck fixes the issue for those looking to exit the passenger side and works normally for those exiting the driver side by creating an adapter that allowed the flange bolt pattern to be rotated, eliminating the downward exit and the air pocket associated with it. The flange adapter does the job of directing water as well as converting the bolt pattern so that the water neck can sit perfectly level, regardless if you want the upper hose to exit the intake or exhaust side! 
The design incorporates two -16 ORB ports so you can select the outlet orientation and the type of connection. An ECT sensor port is included but it has been moved from the OEM location. The hardware kit includes four M8 socket head bolts, a -16 ORB plug, your choice of 1.25" hose barb or -16 male flare port fitting, and two OEM o-rings. If you are installing your K24Z into a RWD project, you only need of 1.99" of space between the firewall and the water neck mounting surface to run this!

Want me to weld up a filler neck, fill pot, or swirl pot using this flange? Send an email to sales@tractuff.com so I can get you scheduled. I will not have pictures of said items until someone has commissioned me to make something and I have had a chance to photograph it.

NOTE: If you would like to retain heat you will need to convert one of the -16 ORB ports to a smaller/ more common thread size to a slip hose fitting.
        EXAMPLE: -16ORB (1-5/16"-12) male o-ring boss to -8 ORB (3/4"-16) female o-ring boss + -8 ORB (3/4"-16) male o-ring boss to your            preferred hose size or the closest available size on the market.
Reviews