Radium Fuel Pressure Regulator - Direct Mount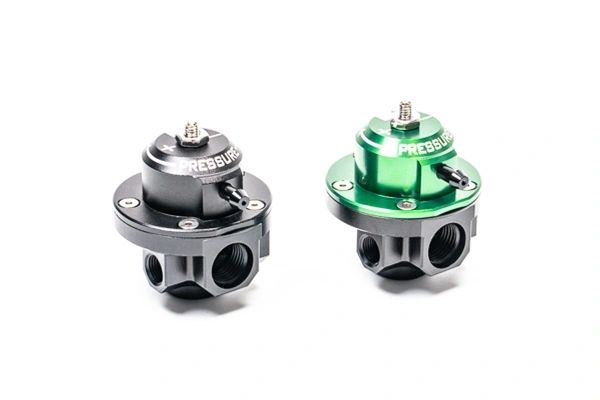 Radium Fuel Pressure Regulator - Direct Mount
The Radium Direct Mount Regulator (DMR) is a compact high performance adjustable EFI fuel pressure regulator designed with a unique highly versatile mounting system. It can be mounted directly to a compatible fuel rail port using the included 360 degree swiveling adapter, or mounted remotely away from the fuel rail. The compact size fits in areas with limited space, without sacrificing performance. This regulator is safe to use with E85 and other alternative fuels.
PORTS AND FITTINGS
The main inlet port on the regulator is female threaded for 6AN ORB. A swiveling double ended adapter (shown below) is included with the kit that allows the regulator to be used in any compatible 8AN ORB fuel rail port, such as those found Radium Engineering fuel rails. Other swivel adapters will be made available in the future. If mounting the regulator off-rail, other adapters can be screwed into this port on the regulator (sold separately HERE).


The return port on the bottom is threaded for 6AN ORB. The provided 90 degree 6AN male fuel return fitting (shown below) can swivel 360 degrees permitting a multitude of mounting configurations. Other adapter fittings can be installed in the return port if needed (sold separately).


Unlike the previous generation, this DMR has two 1/8" NPT side port locations that can be used with a pressure gauge, transducer, temperature probe, etc. Two 1/8" NPT plugs are provided.



Fuel pressure is dialed in using the preloaded set screw on top of the regulator.
Two interchangeable orifices are included with calculated flow diameters to match the fuel pump flow to the regulator. This permits the DMR to be used with practically any horsepower engine. Furthermore, this added precision will resist diaphragm flutter and optimize pressure stability. This design has been tested to regulate over 1,200 liters per hour.

NOTES:
1. Compatible with all gasoline and ethanol blends of fuel. 
2. It is not uncommon for pressure to bleed down when the fuel pump is turned off. This is not a sign of a malfunctioning regulator.
---
WHATS INCLUDED
Part numbers 20-0623-00/-01 include only the parts shown in the photo below.

-Fuel Pressure Regulator (Black or Green Top)
-Swiveling Inlet Adapter Fitting (for 8AN ORB Fuel Rail)
-PTFE Impregnated 1/8" NPT Plugs (x2)
-6AN Male Swivel (for Return Line)
-Return Orifices (silver orifice pre-installed)

Reviews