Radium Fuel Pressure Regulator - Direct Mount
Radium Fuel Pressure Regulator - Direct Mount
The Direct Mount Regulator (DMR) is the perfect solution for simplifying a high-flow fuel injection system. It's unique swivel inlet fitting adapts directly to the fuel rail eliminating external mounting and additional plumbing. It uses the same internals as the popular Radium Engineering MPR (Multi-Pump Regulator) which means it carries over the ability to change the orifice to match the regulator to the pump flow. 

Either of the lower two opposing -6 AN ORB Ports can be used for the return line. Using the included fittings, simply install the -6 AN male into the port that points in the ideal direction and install the plug into the remaining port. Fuel pressure is dialed in using the preload set screw on top. 

Package Includes:
-Fuel pressure regulator

-Stainless steel hardware

-Three interchangeable return orifices 

-6 AN ORB (9/16"-18) plug

-6 AN ORB (9/16"-18) to 6 AN male

-8 AN ORB inlet fitting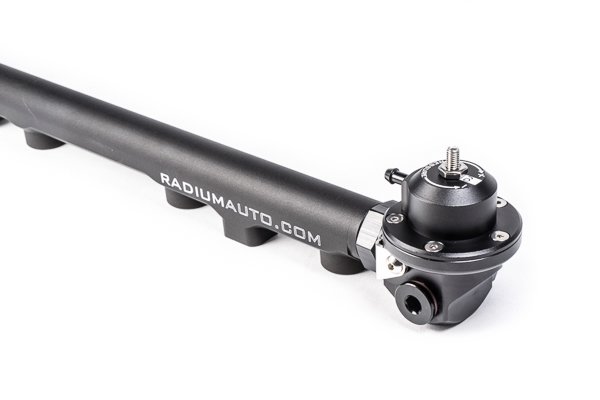 The 1:1 vacuum reference high flow design has been tested to regulate over 1,400 liters per hour. Furthermore, with the addition of interchangeable return orifices, the DMR can be used in ANY horsepower output EFI system imaginable and is compatible with all gasoline and ethanol blends of fuel.
Reviews