TracTuff Remote Mount Swirl Pot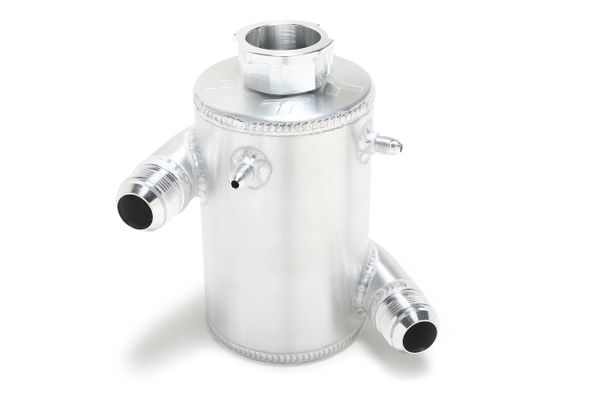 TracTuff Remote Mount Swirl Pot
Our BEST answer for congested engine bays or universal applications. Remotely mounted swirl pots allow you to choose the best place to mount for your specific application and needs. It doesn't mater if its an import or domestic... street car or tube chassis race car, we can make this work!
What is shown is just an example... you can create a custom product from a list of options to make the product as unique as your project. You can call out the diameter, height, inlet/ outlet position, accessory ports for aftermarket sensors and/ or turbo and wastegate feeds.
Need a bracket? Sketch something up and I'm sure I can make that happen too.
NOTE: Made to Order - Contact for ETA - If you are interested in a specific design that varies from this, please email us at sales@tractuff.com. The import cap bung has a 1/16" NPT port for connection to an overflow and uses an early 90's cap from something like a 88'-91' Honda Civic/ CRX . The domestic cap bung has a 1/8" NPT port for connection to an overflow and uses a 70's model cap from something like a 70' Chevy C10 Truck.
Mounting brackets are quoted via email or phone once I have a technical drawing or some way to understand the material and effort involved. You can make your purchase and follow up with and email referencing your order number so we can add the bracket.
Photo Courtesy of SHG Motorworks
Reviews