TracTuff Application Specific Dual Pass Radiator
TracTuff Application Specific Dual Pass Radiator
Product is now available for Back Order. The core photographed in these images is no longer being used... I have recently stepped this product WAY up by working with one of the best, if not THE best radiator company on the market; PWR's sister company C&R. TracTuff spec cores are currently on order and are expected to arrive in late October. Visually, the product wont look much different, so please navigate the page and check back often for updates.
In the past year and a half, I have done a lot of talking... about the radiators in these photos. The promotion and education has resulted in very positive responses on social media and sales have been great! The feedback has been even more awesome; I couldn't ask for it to be more positive. Unfortunately (and fortunately) a change had to be made. A falling out between a supplier and my self has left a huge void for this growing product line. A delay will be experienced while I change gears and replace this vendor with another. The change is a positive one but it's going to take time for those changes to be realized, as well as a lot of time and effort to educate consumers on those changes... and I want to make sure that customers that bought prior to August 2020, don't feel like they own an obsolete or inferior product. Truth is, I would still be using the cores if the supplier hadn't been so terrible to work with!
What has changed? 
In short... EVERYTHING. The cores are now manufactured to spec by C&R and as a result of using such a substantially better core, the price had to be increased. I realize this may have put the product just outside of reach for many, but I'm trying to offer the best for the discriminating few. 
Lets get into the details!
TracTuff application specific racing radiators are excellent general-purpose radiators, capable of cooling the most demanding of applications. The radiators are made to order, so you can choose from standard 1.25" hose, -16 male flare, or -16 Wiggins connections as well as a host of other options. Radiators are available in single pass or double pass w/ or without fan mounts or shrouds. The C&R core chosen uses a 42mm rolled dimple tube that utilizes the full thickness of the core, unlike a number of products on the market, where multi-rows are used to get to the same core depth. Three positive things come from this single 42mm tube...
The cores tube holds more fluid than an equally sized 42mm core w/ multiple tubes.
The continuous width of the 42mm tube allows the 7mm x 18 fins per inch (FPI) cooling fin pack to make more contact with the tubes.
The increased fin contact increases efficiency.
As I ease into this new relationship and test the market with the new higher pricing that core brings, I will be slowly adding new dismissions. The first core coming in will produce product for the EG chassis and can be used for the EK and DC2 but will not maximize the available vertical space.
NOTE: Understand that single pass place the inlet/ outlet on opposite sides. Dual pass place the inlet/ outlet on the same sides. Triple pass place the inlet/ outlet on opposite sides. Radiator cap bungs can be added to either side. If you are not adding a radiator cap bung to the design... I can add a vent to get trapped air out. I can place the drain on either side and add any combo of accessory bungs you'd like; for things like pressure, temperature, turbo feed, oil cooler feed or a fan switch. I can add push through fan mounting pins, fabricated fan mounting tabs or a full fan shroud. Applications that have front core support braces/ hood latch assemblies must be cut out in order to fully tuck the radiator under the upper core support. All radiators are meant to maximize the available space for the best combination of static air flow while the vehicle is in motion as well as highest flow possible when the fan is on. Some traction bars screw with the mounting... and I cannot accommodate for the various design differences without having your traction bar present. You can either ship the traction bar or I can leaving the lower mounting pins out.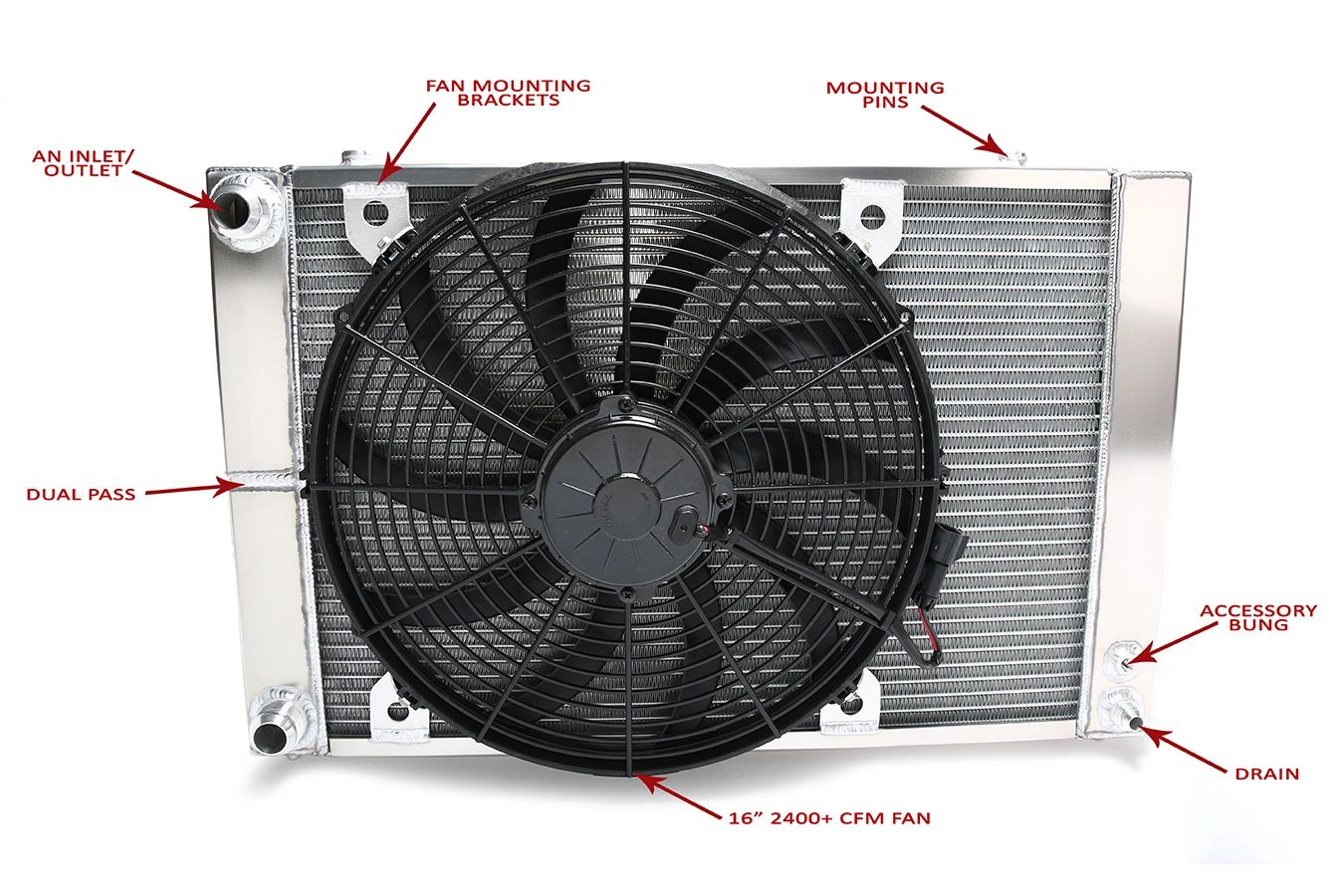 DC2 Fitment Example - Note: The top of radiator can tucked under the upper core support but core support and latch assembly must be removed and radiator tilted forward 6°. OEM mounts are used to get this fitment.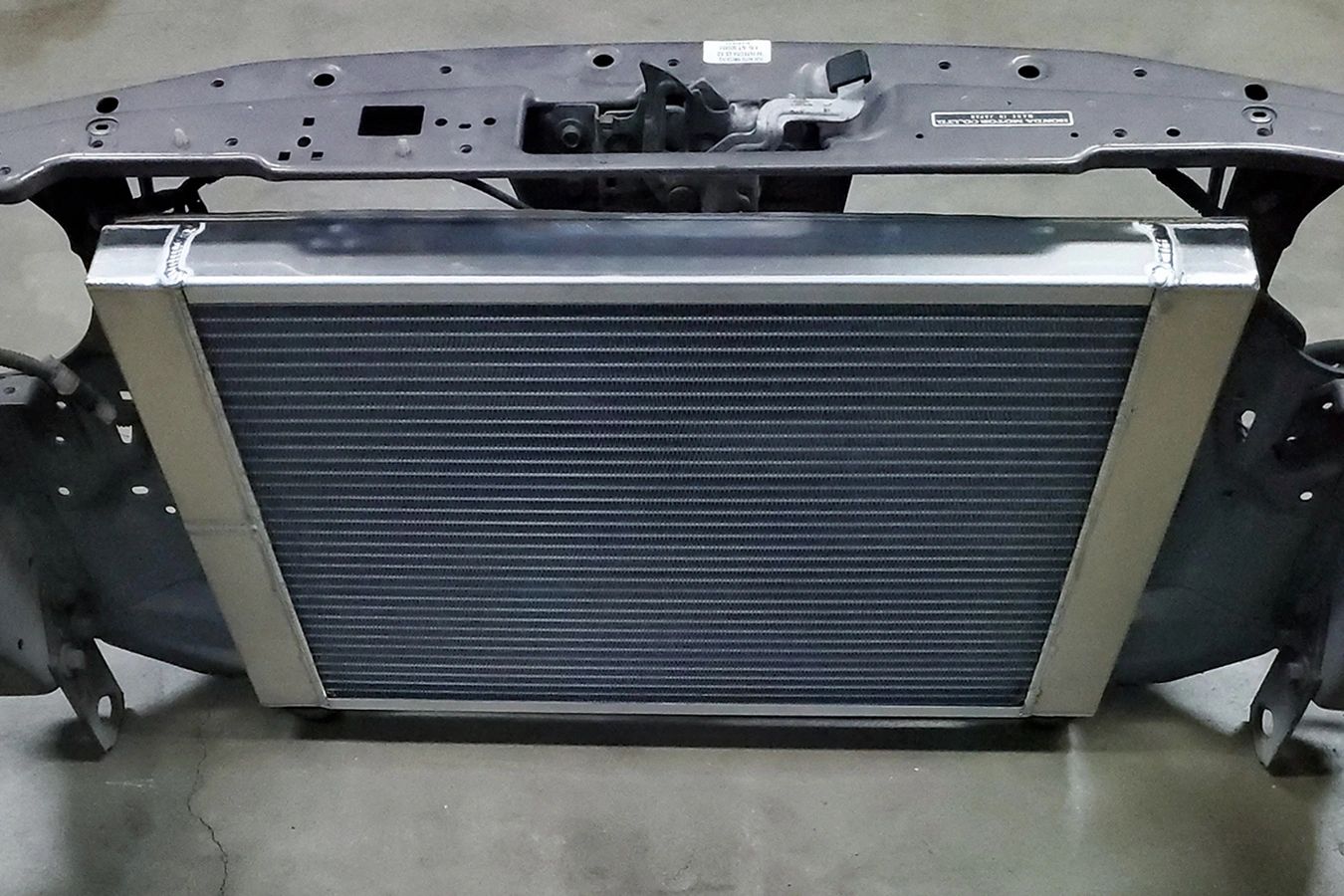 EK Fitment Example - NOTE: The top of radiator can tucked under the upper core support but core support and latch assembly must be removed and radiator tilted forward 6°. ASR brackets must be used in order to get this fitment.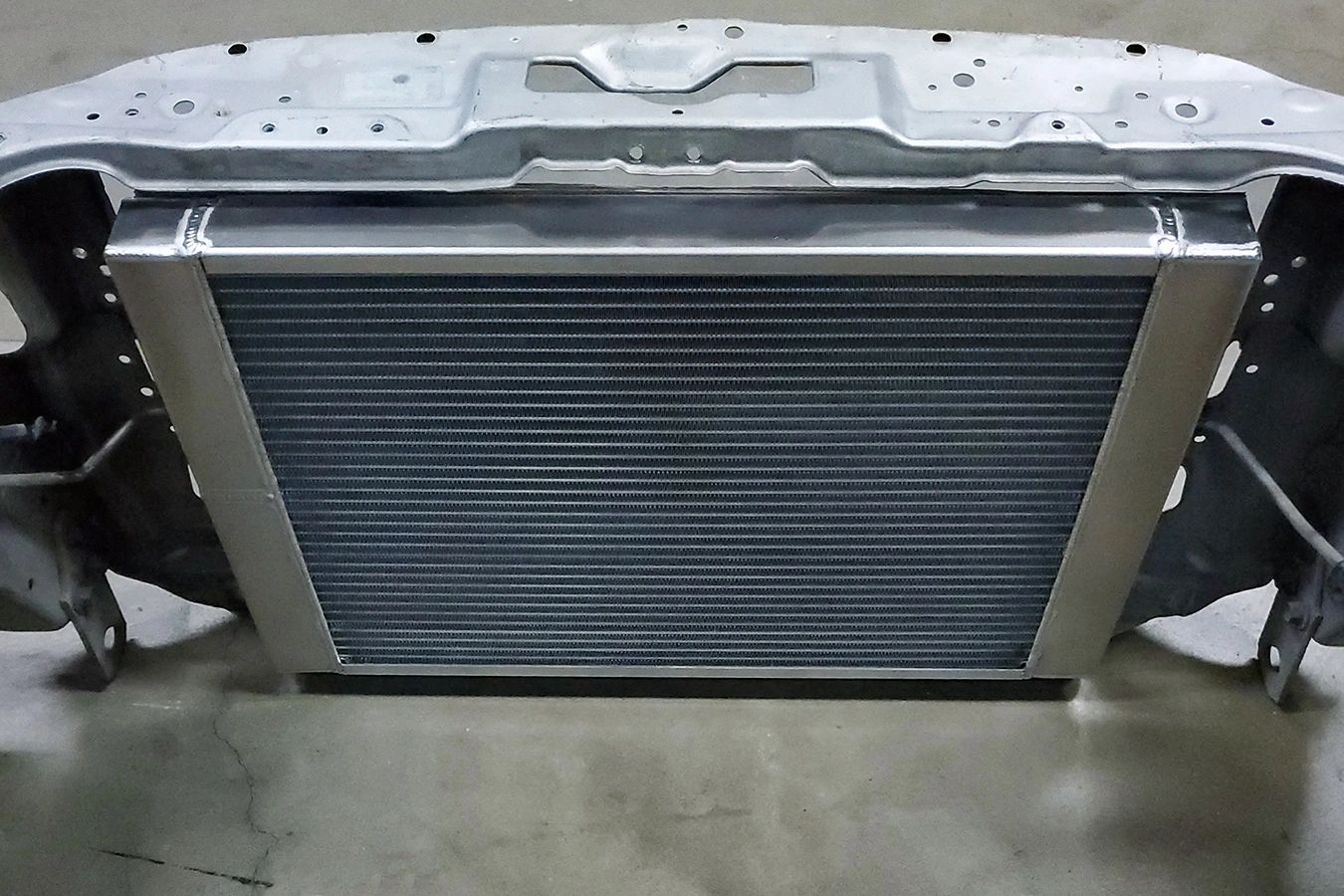 Reviews