TracTuff Custom Dual Pass Radiator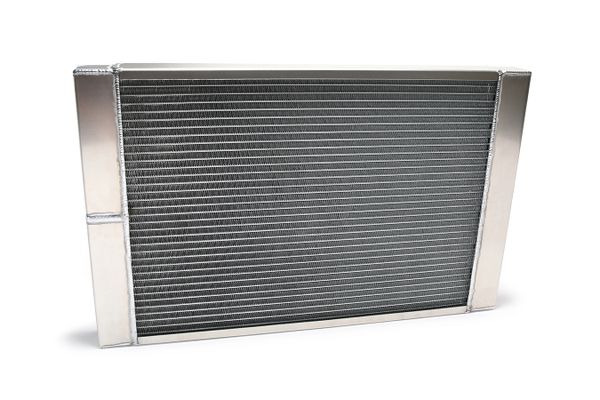 TracTuff Custom Dual Pass Radiator
After years of teching/ trouble shooting cooling system issues that were traced back to improperly sized radiators... I've finally secured a reliable source for our own, with a twist! 
So lets talk about my radiator. The TracTuff spec radiators feature all the latest and greatest in high performance cooling technology. Super efficient because they are built around s 100% all aluminum core and aluminum allows for the use of wider tubes giving you more direct contact between the fins and tubes, increasing the radiators capacity and ultimately allowing it to dissipate heat quicker. I mentioned wider tubes... 1-3/8" to be exact and revolutionary louver fin design that packs 16 fins per inch, allowing the best cooling performance in the most extreme conditions!
All cores are stocked just like what is photographed... meaning options are abundant! Your the boss. I will configure the inlet/ outlet with standard hose or AN male flare bungs, I can add one of two radiator cap bungs if you'd like to fill the radiator in a traditional manner or add a vent if you dont. I can place the drain on either side and add virtually any combo of accessory bungs you'd like... for things like pressure, temperature, turbo feed, fan switch. I can add simple fan mounting tabs or a full on fan shroud as well as custom machined and welded OEM location pins for a number of popular chassis for drop in fitment!
DC2 Fitment Example