TracTuff Exhaust Back Pressure Damper Kit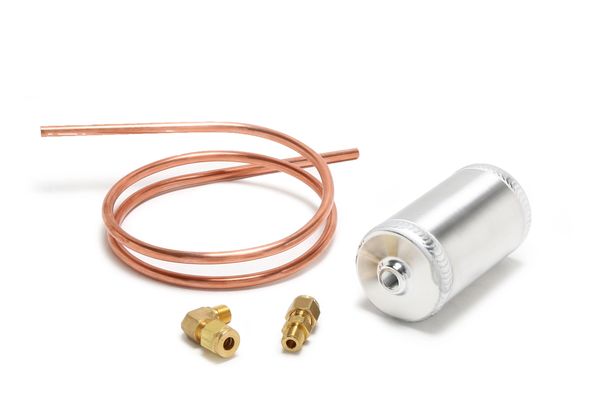 TracTuff Exhaust Back Pressure Damper Kit
Requested by a number of repeat customers and finally a reality. TracTuff universal exhaust back pressure sensor dampener kit comes with just the items you want! No bloat.
CNC machined 6061-T6 2.00" aluminum top and bottom with integrated 1/8" NPT ports, a 3.00" long body, your choice of Yor-Lok straight 1/8" NPT to 1/4" tube compression fitting or Yor-Lok 90° 1/8" NPT to 1/4" tube compression fitting, and 3' of 1/4" .035" wall copper tubing. 
NOTE: Made to Order - Contact for ETA - If you are interested in a specific design that varies from this, please email us at sales@tractuff.com. Copper tubing is purchased straight but in order to ship this product for a reasonable price... it is loosely coiled to fit inside a medium USPS flat rate box. If you would like the copper coiled tightly, send an email with your order number requesting it to have a 3.00" or 4.00" inside coil diameter. Regardless of diameter chosen... each end will have at least 4.00" of straight tube.
Yor-Lok fittings provide a nut with two sleeves (ferrules) giving these fittings extra gripping power. The sleeves bite into tubing as you tighten the nut, creating a strong seal. Also known as instrumentation fittings, they are made to tight tolerances for use in high-precision applications. Fittings are brass for good corrosion resistance. They are compatible with Swagelok®, Let-Lok, and A-Lok fittings.

Reviews