TracTuff Exhaust Back Pressure Damper Kit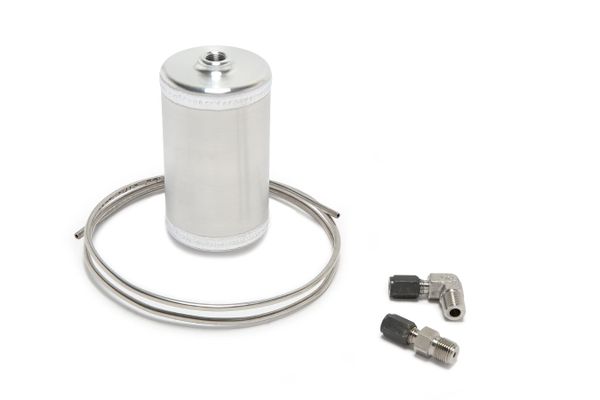 TracTuff Exhaust Back Pressure Damper Kit
Requested by a number of repeat customers and finally a reality. TracTuff universal exhaust back pressure sensor dampener kit comes with just the items you want! No bloat.
CNC machined 6061-T6 2.00" aluminum top and bottom with integrated 1/8" NPT ports, a 3.00" long body and your choice of Yor-Lok straight 1/8" NPT to 1/4" tube compression fitting or Yor-Lok 90° 1/8" NPT to 1/4" tube compression fitting, and 3' of 1/4" .035" wall copper tubing. The fittings and tubing are brass and copper... I have not updated the image.

NOTE: Billet parts are cleaned in a ultrasonic cleaning tank with a proprietary solution just prior to packaging. No prep is necessary. It is important that you add a few drops of oil to your finish-welded products threads prior to assembly to prevent galling. If you are going to check thread mesh prior to welding, be sure to lubricate the threads and clean again prior to welding. 
Copper tubing is purchased straight and in order to ship this product for a reasonable price... it is loosely coiled to fit inside a medium USPS flat rate box. If you would like the copper coiled tightly, send an email with you order number, requesting it to have a 3.00", or 4.00" coil inside diameter. Regardless of diameter chosen... each end will have 4.00" of straight tube.

Yor-Lok fittings provide a nut with two sleeves (ferrules) giving these fittings extra gripping power. The sleeves bite into tubing as you tighten the nut, creating a strong seal. Also known as instrumentation fittings, they are made to tight tolerances for use in high-precision applications. Fittings are brass for good corrosion resistance. They are compatible with Swagelok®, Let-Lok, and A-Lok fittings.

Reviews