TracTuff K24Z Rear Wheel Drive K Swap Filler Neck - Ex Side Outlet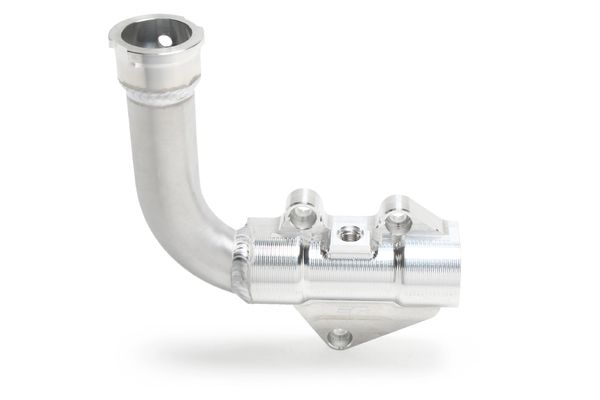 TracTuff K24Z Rear Wheel Drive K Swap Filler Neck - Ex Side Outlet
The K24Z filler neck for exhaust side outlet hose routing is the smartest way to add a filler to the highest point in the cooling system.
If you haven't already read the product description of the K24Z Water Neck Flange and you care to know how it came to be and what makes it special, give it a read.
The filler tube is added to the unused -16 ORB port opposite the outlet, eliminating the need for a -16 ORB plug and adding a convenient way to burp the cooling system.  Just choose the type of connection you would like to make at the remaining -16 ORB port. An ECT sensor port is included but it has been moved from the OEM location. The hardware kit includes four M8 socket head bolts, your choice of 1.25" hose barb or -16 male flare port fitting, and two OEM o-rings.
NOTE: Made to Order - Contact for ETA - If you are interested in a specific design that varies from this, please email us at sales@tractuff.com. The cap bung has a 1/16" NPT port for connection to an overflow and uses early model Honda radiator caps; such as an 88'-91' Civic/ CRX or 90'-93' Integra. You will need at least 1.99" of space between the firewall and the water neck mounting surface to run this!

Reviews