TracTuff M28 to -16 AN Adapter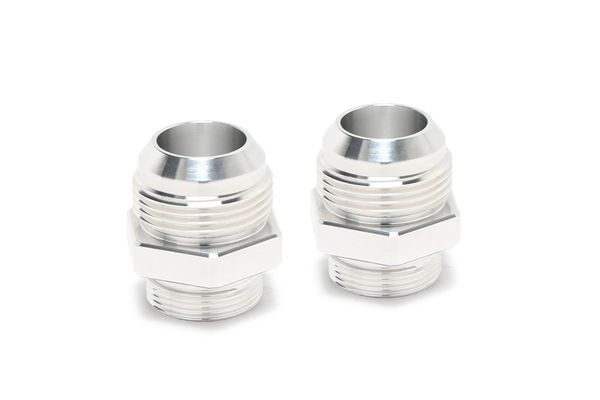 TracTuff M28 to -16 AN Adapter
The J series billet water neck flanges are awesome pieces but they don't work for everybody, especially rear wheel drive swaps!
My J series swirl tanks and fill pots have gained a ton of attention and with that, lots of inquires for stuff that I cant make using the billet water neck flanges. Tired of fielding calls and answering emails that I cant close... I decided to pull the trigger on an idea I had back when the flanges were designed.

I noticed then that the cylinder heads were threaded just behind the cast water neck, so I made these to thread into the cylinder head, sealing using a Genuine Honda aluminum crush washer. This compact solution allows for easier plumbing of the outlet where space between the heads and the firewall is a premium!
Unsure of popularity... this will be a short TEST RUN so don't sleep! Price is per PAIR.
NOTE: -12 will be anodized and -16 will be raw. The water pump inlet is left unaddressed (for now at least) so you will need to handle this on your own. To simplify the plumbing, add a remote fill pot or swirl tank to your firewall as a means of merging the two lines as well as having a fill point at what is guarantied to be the highest point of the system and only have one line to route to the radiator! Email sales@tractuff.com today for a custom product that meets your specific needs.