TracTuff PR3 Swirl Pot -V2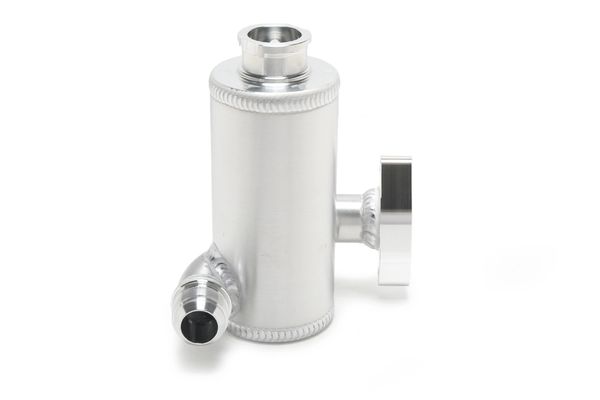 TracTuff PR3 Swirl Pot -V2
The swirl pot is the top choice for PR3 (B16A/ B16B/ B18C/ B18C5) cylinder head cooling system upgrades! Best solution for systems that have tucked radiators, a radiator without a cap bung or for situations where you want a higher fill point to aid in burping the sometimes troublesome cooling system. 
The swirl pot starts with a beautifully machined 6061-T6 flange that incorporates incorporates a 3D tapered exit port for a seamless transition to 1.25" tubing. The backside of the flange has an o-ring grove for a positive seal without the hassle of Hondabond. The V2 PR3 swirl pot clears the VTEC spool valve assembly but does not clear the heater nipple on the cylinder head nor does it work a distributor. If you are using an EPM in the distributors place, please communicate the distance it sticks out from the mounting surface; if no information is relayed after the purchase, I will assume a cam plug is being used.
NOTE: Made to Order - Contact for ETA - If you are interested in a specific design that varies from this, please email us at sales@tractuff.com. Due to tank placement, the heater port on the cylinder head must be plugged. The cap bung has a 1/16" NPT port for connection to an overflow and uses early model Honda radiator caps; such as an 88'-91' Civic/ CRX or 90'-93' Integra. If you are using AN lines, I recommend designing the upper radiator hose so that there is droop/ give... so the engines movement and does not push/ pull on the radiator and fatigue any parts.
The swirl pot includes two stainless M6 socket head bolts and an o-ring. The tank is welded so that it sits level when bolted to an engine leaned forward 5.5° (exhaust side).
Reviews