TracTuff PRB/ PRC Rear Wheel Drive K Swap Water Neck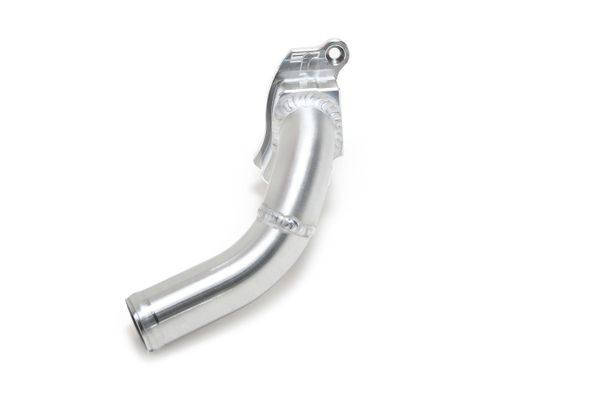 TracTuff PRB/ PRC Rear Wheel Drive K Swap Water Neck
The RWD version of the PRB/PRC water neck flange opened up lots of opportunities for more complete upper radiator hose connections... here is one of the most common! 
With the help of Pit Garage I and am happy to offer this upper water neck with tubing modeled for use with the S2000 radiator hose. Available with slight adjustments, to fit the Skunk2 Ultra Street and Ultra Race intake manifolds with the plenum flipped and keeping the end of the tube in VERY similar proximity to the OEM S2000 water necks outlet position. 
The neck starts with a beautifully machined 6061-T6 flange that incorporates the largest port possible within the OEM gaskets footprint, a 1/2" NPT water bypass port, and machined o-ring groove for the OEM gasket. You can choose to have a 1/8" NPT sensor port added directly to the top of the neck (near the logo) or the side (under the outlet) .
NOTE: Made to Order - Contact for ETA - If you are interested in a specific design that varies from this, please email us at sales@tractuff.com. If you have questions related to the configuration or options... PLEASE visit the WHATS WHAT or FAQ page. The outlet tube is welded so that it sits very similarly to the OEM S2000 water neck outlet does when bolted to an engine with a 15° lean to the passenger side (exhaust side)

The billet neck has a 1/2" NPT water bypass port and the hardware kit includes a 5/8" hose fitting, a plug, two stainless M6 socket head bolts, and a Genuine Honda gasket. 
This is the highest point in the cooling system so I have added the option for a filler neck if you are looking for an easier way to add coolant and bleed the cooling system.

Reviews