TracTuff PRB/ PRC Rear Wheel Drive K Swap Water Neck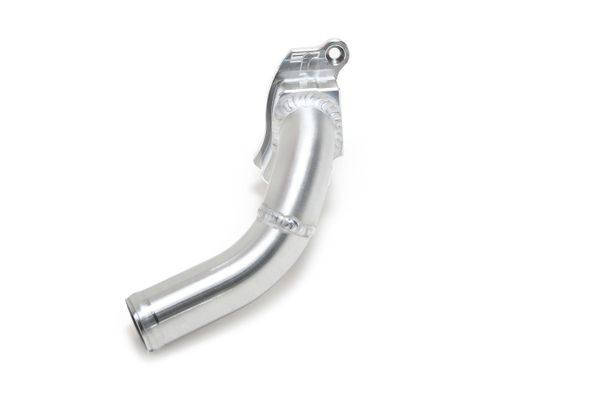 TracTuff PRB/ PRC Rear Wheel Drive K Swap Water Neck
The introduction of the RWD version of the PRB/PRC style water neck left a lot to be wanted; it was a slam dunk for those interested in running AN lines, but left the end-user with the headache of finding a traditional hose that would work. I've seen combinations of multiple radiator hoses joined with numerous clamps or rigid aluminium tubing that has been fabricated to navigate the engine bay; which is a great option but costly and not something everyone can do.
With the help of Pit Garage I and am happy to announce that I now have a true solution! Originally modeled for the S2000 manifold attached to the k series head via an adapter plate and now available with slight adjustments, to fit the Skunk2 Ultra Street and Ultra Race intake manifolds with the plenum flipped. The end of the tube is VERY similar to the OEM S2000 water necks outlet position so the S2000 upper radiator hose is now a viable option for many RWD K Series swaps.
This is the highest point in the cooling system so we have added the option of a bleed port for those interested. If you are interested in an even easier way to add coolant and bleed the cooling system... check out my filler neck, fill pot, and swirl port options.
NOTE: Made to Order - Contact for ETA - If you are interested in a specific design, please email sales@tractuff.com. The outlet tube is welded so that it sits very similarly to the OEM S2000 water neck outlet does when bolted to an engine with a 15° lean to the passenger side (exhaust side). The billet neck has a 1/2" NPT water bypass port and the hardware kit includes a hose fitting and a plug in the event you don't plan on connecting a bypass hose.