TracTuff RBB/ RBC Swirl Pot - RWD V1
TracTuff RBB/ RBC Swirl Pot - RWD V1
Something new for all you rear wheel drive k swappers!! This swirl tank takes advantage of wasted space and offers a premier solution for bleeding the cooling system; which would otherwise be a real project. 
Please note that due to the large differences in each of the intake manifolds listed, the finished product may differ from the image shown. Also, unique features on some of these manifolds will either dictate the inlet and outlet positions or render the feature unusable (2nd. Fuel Rail on S2 Ultra Race). I will email buyers once the product has been purchased and break down your options. The KMiata spec swirl pot (shown) is more expensive and requires the intake manifold to be shipped in so a support bracket can be welded to the plenum. If you do not want to ship in your manifold, you will be responsible for adding a bracket to both the tank and the manifold and assuming any and all responsibility if one is not added.
Our billet water neck has the largest port allowed for the best flow within the OEM gaskets footprint and has 1/2" NPT heater port. All billet parts are CNC machined from US milled 6061 aluminum. The domestic cap bung has a 1/8" NPT port and the import version has a 1/16" NPT for connection to an overflow. The domestic version uses any early model (late 70's Chevy C10 Pickup w/ 454) cap and the import version uses early model Honda (88'-91' Civic/ CRX and 90'-93' Integra) cap. 

NOTE: Made to Order - Contact for ETA - If you are interested in a specific design that varies from this, please email us at sales@tractuff.com. If you have questions related to the configuration options... PLEASE visit the FAQ page. If using AN lines we also recommend designing the upper radiator hose so that there is droop/ give so the engines movement and does not push/ pull on the radiator and fatigue any parts. The billet neck has a 1/2" NPT heater port and the hardware kit includes a 90° hose fitting and a plug in the event you don't plan on connecting a heater hose. The tank is welded so that it sits level when bolted to an engine leaned back 15° (exhaust side).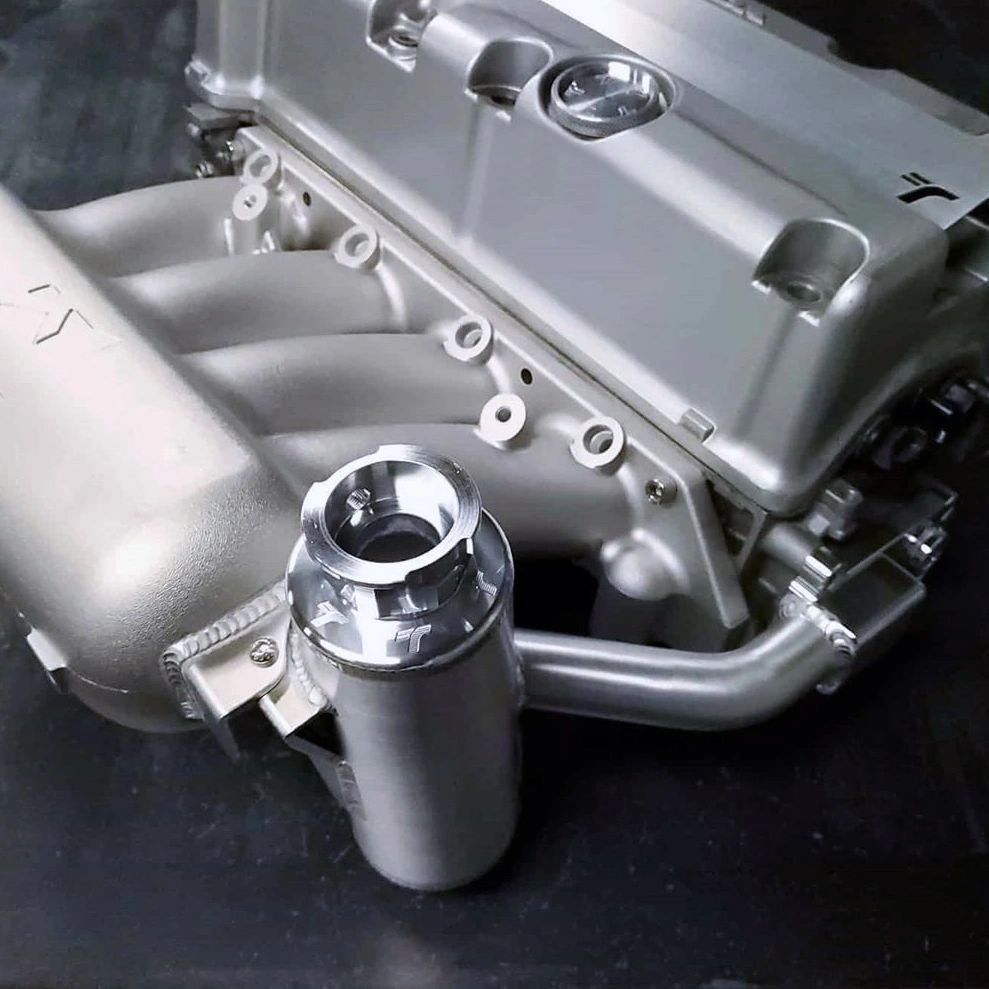 Reviews