TracTuff Remote Mount Dual Entry Race Swirl Pot & Header Tank Combo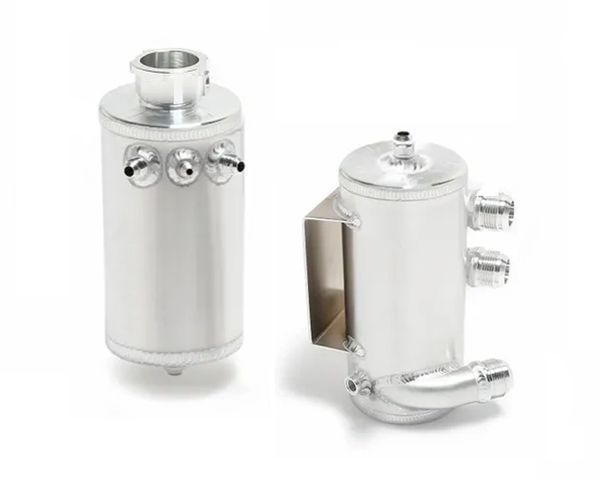 TracTuff Remote Mount Dual Entry Race Swirl Pot & Header Tank Combo
The Remote Mount Race Swirl Pot & Header Tank Combo is a max effort system!
Commonly found in use on real race cars, this style swirl pot is more effective at deareating the cooling system as well as increasing system capacity and efficiency. Both the swirl pot and the header tank are remotely mounted; coolant is routed from my billet upper water neck to the swirl pots upper connection, where it performs its magic, comes out of the bottom connection... and is then routed to the top of the radiator.
What makes this system different from most everything else you see on my website, is that there is no fill point on the actual swirl pot. The swirl pot is only responsible for deareating the coolant. The header tank is connected to the water pump, replacing the original thermostat water bypass, which is constantly drawing water out of the header tank... which is in turn connected to the top (vent) of the swirl pot. This allows the air caught in the swirl pot to rise, exit, and collect in the header tank. Water also enters the header tank... settles to the bottom and is then pulled through to complete the closed loop cooling while the t-stat is closed. Air is is essentially trapped and all coolant expansion occurs in the header tank.
You have total control over this project! What are shown are just examples... you can call out the diameter, the height, inlet/ outlet positions, and accessory ports. Mounting brackets are not included.

NOTE: Made to Order - Contact for ETA - If you are interested in a specific design that varies from this, please email us at sales@tractuff.com. The cap bung has a 1/16" NPT port for connection to an overflow and uses early model Honda radiator caps, such as an 88'-91' Civic/ CRX or 90'-93' Integra. 
Mounting brackets are quoted via email or phone once I have a technical drawing or some way to understand the material and effort involved.

I can turn any of the application specific swirl pots found on this website, into this style of swirl pot so you only have to concern yourself with remotely mounting the header tank. The header tank MUST be mounted at equal to or higher than the vent on the swirl pot to work. A hose must be ran from the bottom of the header tank to the backside of your thermostat housing or inlet to the water pump to create the draw necessary to make this work.
A common accessory connection for this combo would be to add a radiator vent to the top of the radiator, which is ported on the top of the header tank. 
Reviews