TracTuff Remote Mount Fill Pot - Dual Entry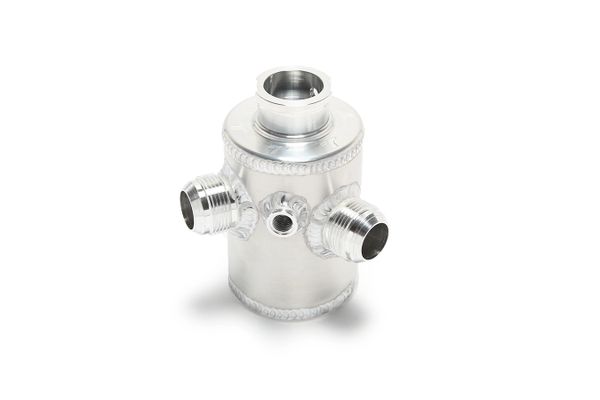 TracTuff Remote Mount Fill Pot - Dual Entry
The J Series water neck is more complicated than most, due to the engine having a pair of cylinder heads, and therefore two water outlets. My billet water neck greatly reduces clutter but complicates the plumbing, so I made the J Series Remote Coolant Fill Pot to reduce that complication!
Simply plumb two lines from the TracTuff Billet Water Neck to the two inlets on the J Series Remote Coolant Fill Pot, extend the ECT wires, and your done. Extremely flexible in congested engine compartments; all you have to do is decide where you would like the tank mounted.
Options are abundant but if you don't see something specific... email me. That's how this became a reality. The billet water neck has -16 ORB ports so you can choose -16 male flare fittings or go to the smaller -12 male flare fittings and have matching -12 male flare bungs welded to the remote coolant fill pot. You can also add a heater core outlet or accessory ports for aftermarket gauges.  

Tank end caps and radiator cap bung are all machined from US milled 6061 aluminum. The domestic cap bung has a 1/8" NPT port and the import version has a 1/16" NPT for connection to an overflow. The domestic version uses any early model (late 70's Chevy C10 Pickup w/ 454) cap and the import version uses early model Honda (88'-91' Civic/ CRX and 90'-93' Integra) cap. 
NOTE: Made to Order - Contact for ETA - If you are interested in a specific design that varies from this, please email us at sales@tractuff.com. 
Accessory Notes: 

ECT Sensor Bung -  Can be located in the tube coming from the rear cylinder head to the tank or in the actual tank. I suggest the tank so you get a blended temp for both cylinder heads, however... this will require the harness to be lengthened.
Heater Core Connection -  Must be welded to the actual tank. Locating the connection in the tank will require you to use bulk hose and route the line.
Water Bypass Connection - Only used on systems that are going to incorporate a thermostat. Purchase of our inline thermostat will be required. 
Reviews