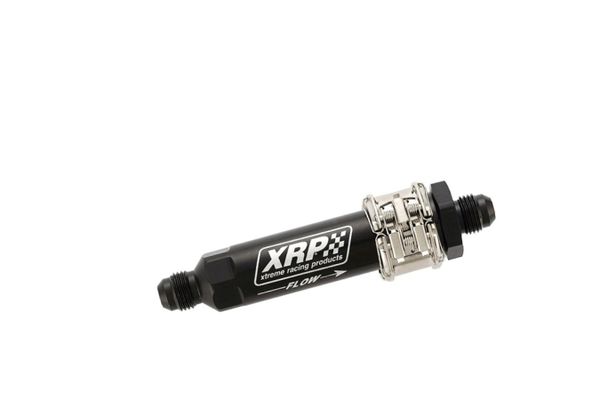 XRP Space Saver Filter
XRP Space Saver Filters are the companies most compact filters offered!
Available in seven different micron ratings and only measuring .875" in diameter and only 5.00" long, allows them to fit pretty much anywhere and do the job right! Quick disconnect clamshell allows quick and easy access to stainless steel filter for inspection and maintenance. Kit comes with two sets of o-rings for different fuel types. Choose from 10, 20, 40, 60, 75, 100, or 120 micron screens to suit all needs.
NOTE: Many fuel injector manufactures agree that a properly plumbed fuel system consists of at least a 100 micron pre-filter (before pump) and a 40 micron post-filter (after pump). Pumps generally dont do very well at pulling/ sucking fuel so be careful not to restrict the pump to much with a fine filter that can clog quickly/ easily. The post filters job is to stop smaller contaminants that made it past the larger pre-filter. Many (like my self) believe in staged post-filter filtration so as to not clog/ restrict the flow due to one post-filter loading up quickly. A staged post-filter set-up may include a 75 or 60 micron filter in front of a 40 or 20 micron final filter. If you are interested in staged filtration... do not select this product and contact me sales@tractuff.com for a quote on a 70 or 72 series stack-able combo.
Special Order - Please allow a few days for shipping. 
Reviews