TracTuff Extreme Clearance K Water Neck Kit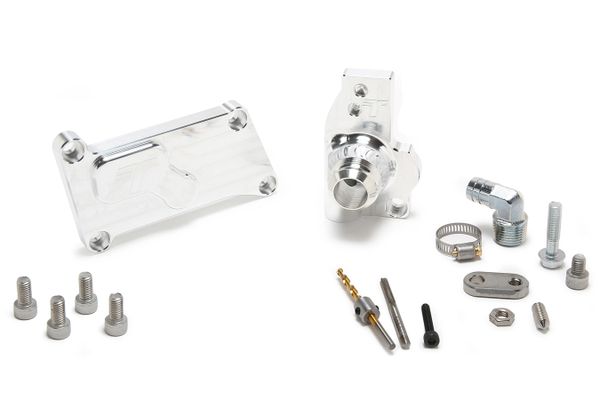 TracTuff Extreme Clearance K Water Neck Kit
EXTREME CLEARANCE!!! Yup, that's what you get with this kit. Geared specifically towards (but not limited to) the "Front Engine Rear Wheel Drive" market and those situations where the rear of the RBB/ RBC style cylinder head is buried into the firewall.
The outlet on the K24A, K24A2, K24A4, K24A8, and K20Z3 sits over the transmission and I've seen that this creates trouble in several situations and as the popularity of the k swap grows, I fully expect that this scenario will also. The four bolt block-off measures 11/16" thick and takes less space than the traditional K20 cam sensor or an 1/8" more than the K24 cam sensor giving your the MAXIMUM clearance possible. The flange uniquely merges the original water outlet with the traditionally unused EGR passage, sending water to the intake manifold flanges surface, where a hybrid water bypass adapter re-merges the EGR port with the original water bypass port to achieve a level of flow that allows this unique water bypass to serve as an outlet. 
A "How to" drill the cylinder head for the "optional" M5 retaining bolt will be coming shortly. Hardware kit includes installation hardware and o-rings (not shown) for the block-off and the water bypass outlet. The Standard hose connection variant includes a 1-1/4" u-bend that you would cut up and weld to create an outlet and the -16 variant includes a custom machined -16 male flare bung. Both are available welded if you don't have the means.
NOTE: I strongly suggest opening up the cylinder heads original water bypass port using the supplied guide/ template to further improve water flow. If you are using AN lines, it is IMPERATIVE that you designing the upper radiator hose so that there is droop/ give... so the engines movement and does not push/ pull on water bypass outlets upper link or link and small M5 bolt combo. I cannot stress this enough and its even more critical if used in a FWD environment. The block-off does NOT have a heater outlet (remember... you don't have room for it) so you will need to find another outlet elsewhere on the block. 
Reviews