TracTuff Extreme Clearance K Water Neck Kit - Std. Hose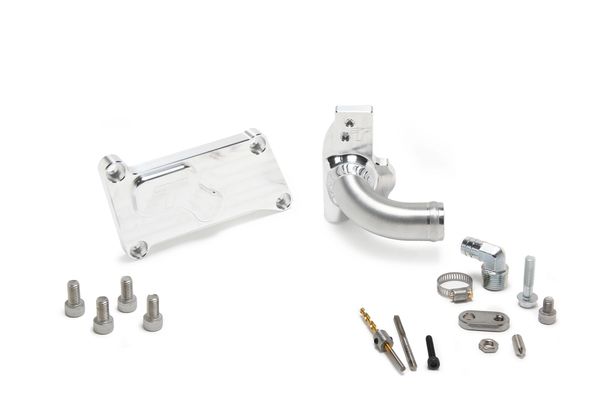 TracTuff Extreme Clearance K Water Neck Kit - Std. Hose
EXTREME CLEARANCE!!! Yup, that's what you get with this kit. Geared specifically towards (but not limited to) the "Front Engine Rear Wheel Drive" market and those situations where the rear of the RBB/ RBC style cylinder head is buried into the firewall. The product shown is for the FWD market... all I would do is spin the tube around and weld to your needs.
The outlet on the K24A, K24A2, K24A4, K24A8, and K20Z3 sits over the transmission and I've seen that this creates trouble in several situations and as the popularity of the k swap grows, I fully expect that this scenario will also. The four bolt block-off measures 11/16" thick and takes less space than the traditional K20 cam sensor or an 1/8" more than the K24 cam sensor giving your the MAXIMUM clearance possible. The flange uniquely merges the original water outlet with the traditionally unused EGR passage, sending water to the intake manifold flanges surface, where a hybrid water bypass adapter re-merges the EGR port with the original water bypass port to achieve a level of flow that allows this unique water bypass to serve as an outlet. 
I do not and will not sell either component of this kit separately as they are only meant to work together.
NOTE: The original water bypass opening on the cylinder head MUST be enlarged. DO NOT buy this product is you are not prepared or capable of performing this task. The original .500" water bypass hole does not provide enough flow. The Extreme Water Bypass Outlet can be used to scribe a line in the heads surface, allowing you to transfer the shape of the passage, giving you lines to stay within as you grind. The .500" hole can easily be opened up to .830" x .920" at the widest points (approximately) to increase flow... enough to be combined with the .750" EGR passage and serve as the new outlet. 

Reviews