TracTuff F Water Pump Housing Delete - Race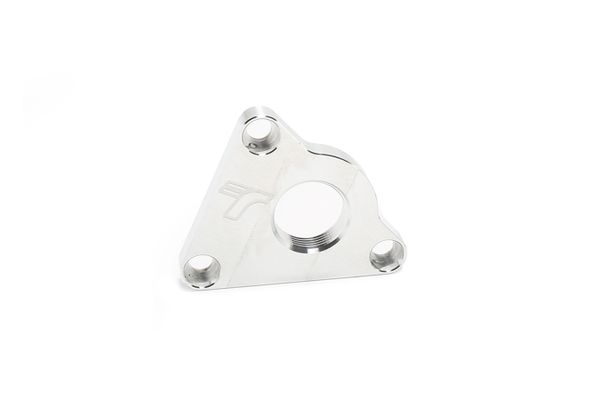 TracTuff F Water Pump Housing Delete - Race
The "Race" F20C/ F22C water pump housing delete is designed to take the place of the heavy OEM mechanical water pump housing, water pump, and thermostat assembly. Considered for the decent weight savings but mostly sought for the HORSE POWERS freed up! A significant reduction in parasitic drag experienced as a result of no longer turning the water pump as well as further gains for those interested/ willing to go 16V, by not turning an alternator either! Additional benefits include eliminating pump cavitation during sustained high RPM use and then being able to keep the pump and fan on to cool the motor while the engine is off.
CNC machined from US milled 6061 aluminum; the plate incorporates an OEM o-ring groove and a large 1-5/16"-12 SAE (-16AN ORB) inlet port for great water flow and hassle free fitting clocking.
NOTE: If you are looking to run an electric water pump and an alternator, take a look at the street kit. Don't forget to add a Meziere 20 gpm or 55 gpm pump.

Reviews