TracTuff K20C Water Pump Housing Delete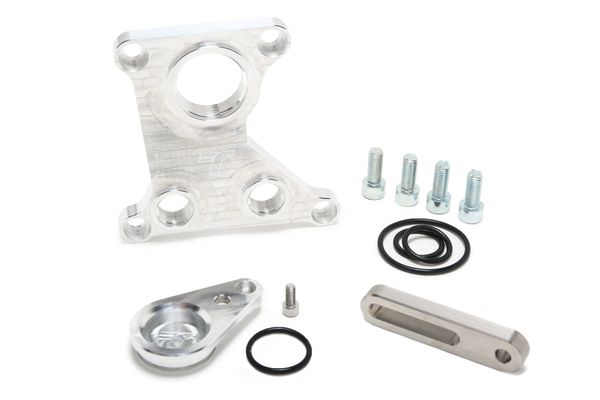 TracTuff K20C Water Pump Housing Delete
The K20C water pump housing delete is designed to take the place of the bulky OEM K20C1 and K20C4 mechanical water pump housing, water pump, and thermostat assembly. Sometimes considered for the small weight savings, but mostly sought-after for the space and HORSE POWER it frees up! The increase in horse power comes from the reduction in parasitic drag associated with engine no longer needing to turn the water pump. Additional gains have been experienced for those willing to ditch the alternator, go to a 16V battery, and no longer turning an alternator!

Additional benefits include eliminating pump cavitation during sustained high RPM use (using the mechanical pump outside of its engineered RPM range), programming the ECU to pulse the pump or keep it on at a specific temps. Manually override pump and fan(s) to cool the motor while the engine is off. 

CNC machined from US milled 6061 aluminum; the plate incorporates an OEM o-ring groove around the water passage and a large 1-5/8"-12 SAE (-20AN ORB) inlet port for great water flow and hassle free clocking of the fitting. The two smaller 7/8"-14 SAE (-10AN ORB) ports are also o-ringed for oil in/ out. The stainless steel tensioner takes the place of the fixed OEM link and allows the belt to be tensioned like the older Honda's. Do not choose the stainless steel tensioner if you plan deleting the alternator and are going with a 16V battery. 
I will eventually offer a pump to plate plumbing kit but for now its up to you where you mount the pump and how to plumb it. I stock the 20 GPM Meziere WP136S and 55 GPM Meziere WP336S electric water pumps.
NOTE: The 
K20C water pump
 housing delete is NOT designed 
for use with AC. The -10 oil cooler inlet/ out must be plumbed to an aftermarket oil cooler OR looped. DO NOT PLUG THESE PORTS!
Reviews