TracTuff Remote Oil Filter Mount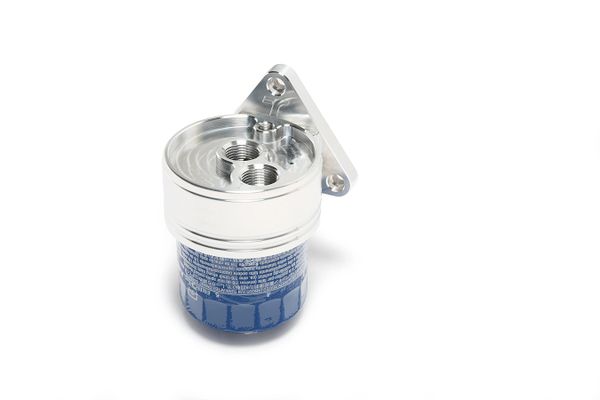 TracTuff Remote Oil Filter Mount
The TracTuff Remote Oil Filter Mount is a universal product designed to relocate the oil filter to a more convenient location.
The gen2 (shown) oil filter mount has machined "IN" & "OUT" markings,-10 ORB inlet/outlet ports, and a filtered 1/8" NPT accessory port to add a sensor or supply clean oil to an accessory of your choice. The kit includes either -8 or -10 male flare port fittings, zinc platted steel 1/8" NPT plugs, and stainless steel mounting bracket to filter mount hardware. 
The remote oil filter mount was designed around the popular Honda S2000 oil filter  and uses a Genuine Honda M20 x 1.50 mounting stud; however, you can choose from TONS of quality oil filter options that use an M20 x 1.50 thread, like the Honda 15400-PLM-A02 filter or any filter with a 2.25" (57.15mm ) minimum o-ring/ gasket ID, and a max body diameter of 3.15" (80mm). The assembly can be mounted in any direction, even upside-down, due to the mounts unique raised lip around the filter that helps contain the oil when the filter is changed. Requires at least a 3.00" x 4.00" flat surface for the triangle mounting foot and 8.00" of space for oil filter removal and fittings.

NOTE: If you don't already have an adapter to get the oil from the original filter location to your new remote mount location... I have equally well thought out matching solution, be sure to check it out. If you are choosing NOT to buy the port fittings... please be sure to purchase fittings that have max hex size of 1.15" or they wont work or will need to be turned down.
Reviews