TracTuff Catch Can - EF Chassis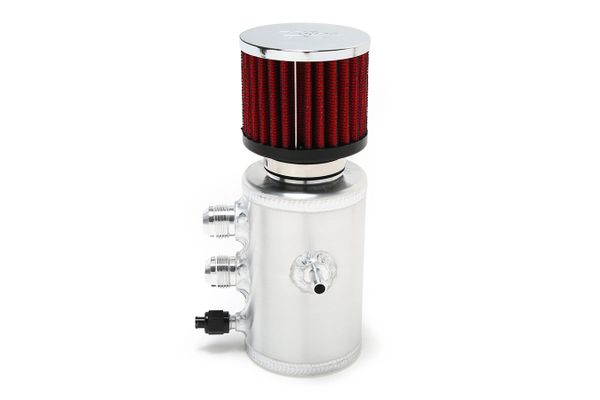 TracTuff Catch Can - EF Chassis
Catch can... breather... crank case vent... these are all names for the same thing! 

Most, if not all universal catch cans, leave a little more to want. I rarely see the correct number of fittings for the application or they don't offer the option of mixing AN and/ or slip hose... or the fittings are pointed in wrong direction in relationship to the mounting and it can be a real bummer.
The EF gets its own listing here because this goes in the most popular location, the OEM coolant reservoir bracket built into the engine/ trans mount, and as a result... its overall dimensions are limited by the hood line. You can configure every aspect of the design as if you were welding it up yourself; you get to choose from different heights, different diameters and either AN or slip hose connections or BOTH in a number of size options. I highly recommend that you measure the space you have a choose accordingly; the billet cap, base, and filter add 3.50" to the height to the tank height you choose.
If you are interested in a more universal mounting, please see the Catch Can Universal Vertical or Catch Can Universal Horizontal listings. 
NOTE: Made to Order - Contact for ETA - If you are interested in a specific design that varies from this, please email us at sales@tractuff.com. If you have questions related to the configuration or options... PLEASE visit the WHATS WHAT or FAQ page. Remember that the OEM brackets associated with the Application Specific Catch Can can sometimes be used in other applications and in other places. 
Reviews