TracTuff RBB/ RBC Swirl Pot - V1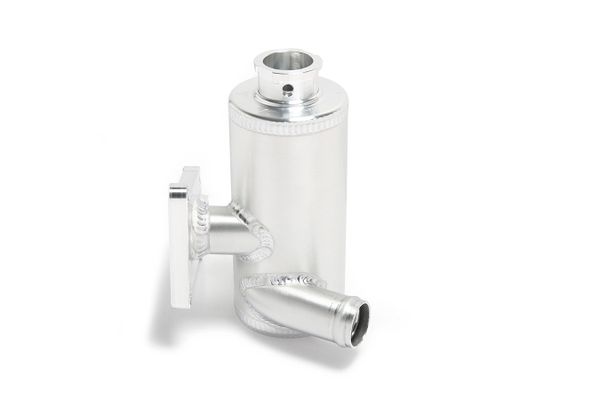 TracTuff RBB/ RBC Swirl Pot - V1
The OG. Essentially a reproduction of what I ran on a personal vehicle back in 2011... just about the time TracTuff was born.
I had no clue I'd be building these as a business back then, so I guess you could say that this is the piece started it all. Requested over and over due to its function, good looks, use of wasted space, and the ability to connect an OEM upper hose. Especially popular with 8th Gen Civic Si and TSX owners.

This swirl pot starts with a beautifully machined 6061-T6 flange that incorporates -16 ORB outlet and a 1/2" NPT heater port. You can choose to have any number of accessory bung options added to the tank in any open space. The outlet itself can be configured for standard hose (1.25" OD) or -16 male flare.

The hardware kit includes four M8 stainless steel socket head bolts, a heater port plug, and a pair of o-rings. The swirl pot is welded so that it sits level when bolted to an engine leaned back 15° (OEM position) for the traditional option and leaned forward 8° (intake side) for the gangster lean engine mount option.
Space between the swirl pot and the flange make the two forward most mounting bolts a bit of a challenge to get to without the right tools. If you don't already own one, you may want to add a 6mm Stubby L-Key.

NOTE: Made to Order - Contact for ETA - If you are interested in a specific design that varies from this, please email us at sales@tractuff.com. The 3 o'clock outlet position will NOT WORK with the K20Z3 shift linkage on a 2.0L. 
The cap bung has a 1/16" NPT port for connection to an overflow and uses early model Honda radiator caps; such as an 88'-91' Civic/ CRX or 90'-93' Integra. If you are using AN lines, I recommend designing the upper radiator hose so that there is droop/ give... so the engines movement and does not push/ pull on the radiator and fatigue any parts.
Due to the location of the swirl pots body, the 90° heater hose fitting I usually include with this flange does not fit. If you would like to retain heat, I can weld a female 1/2" NPT, a -10 male flare, or an 5/8" male slip hose bung to the back of the swirl pot for an additional $30. If you would like to attempt using the port on the flange, you might be able to use a straight 1/2" NPT to -10 port adapter and a 90° push-lock style hose end.
Reviews