TracTuff RBB/ RBC Swirl Pot - V1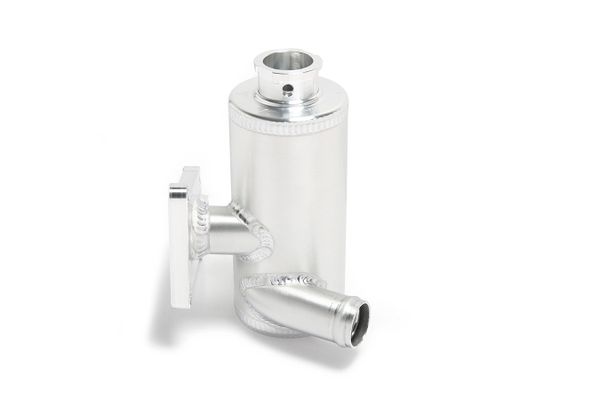 TracTuff RBB/ RBC Swirl Pot - V1
A much better executed version of the swirl pot I ran on my personal vehicle back in 2011 and the very first RBC/ RBB style swirl pot variant.
I had no clue I'd be building these as a business back then, so I guess you could say that this is the piece started it all. Requested over and over due to its function, good looks and use of wasted space. Especially popular with customers that want to continue using the standard hose option because the outlet comes out close enough to the OEM position that a factory hose can work.

This swirl pot starts with a beautifully machined 6061-T6 flange that incorporates the largest port possible within the OEM gaskets footprint and a 1/2" NPT heater port. You can choose to have any number of accessory bung options added to the tank in any open space. The outlet itself can be configured for standard hose (1.25" OD) or -16 male flare.

NOTE: Made to Order - Contact for ETA - If you are interested in a specific design that varies from this, please email us at sales@tractuff.com. The cap bung has a 1/16" NPT port for connection to an overflow and uses early model Honda radiator caps, such as an 88'-91' Civic/ CRX or 90'-93' Integra. If you are using AN line, I recommend designing the upper radiator hose so that there is droop/ give... so the engines movement and does not push/ pull on the radiator and fatigue any parts. 

The hardware kit includes four M8 stainless steel socket head bolts, a heater port plug, and a Genuine Honda gasket. The hardware kit only includes a heater port plug because you cannot fit a fitting to attach a line. Send an email and we'll have to come up with another solution if heat is needed. The swirl pot is welded so that it sits level when bolted to an engine leaned back 15° (OEM position) for the traditional option and leaned forward 8° (intake side) for the gangster lean mount option. 
Reviews