TracTuff RBB/RBC Swirl Pot - V3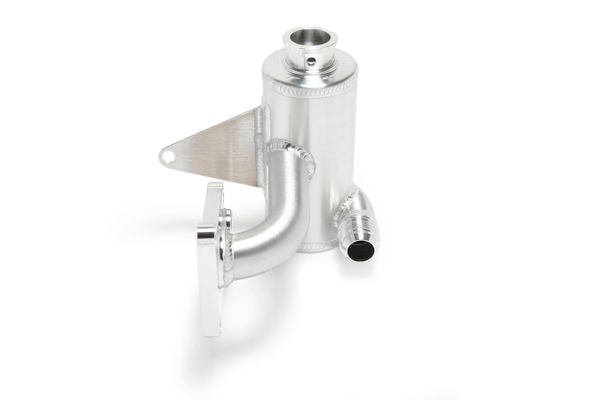 TracTuff RBB/RBC Swirl Pot - V3
A duplicate of the super popular V1SR swirl tank I made for the PRB/ PRC cylinder head is now available for the RBB/ RBC cylinder head! Sure to be just as popular. I recommend this version whenever possible because it incorporates several features that I simply cannot build into other versions due to space constraints. A great use of space for those of you that don't have things that conflict with it, high entry/ low outlet, a substantial bracket to help support the assembly, and an outlet position that allows for the best plumbing options... and by best, I mean it allows for more hose to be used and reduces bad hose routing.
Like its PRB sibling, this swirl tank also starts with a beautifully machined 6061-T6 flange that incorporates the largest port possible within the OEM gaskets footprint and a 1/2" NPT heater port. You can choose to have any number of accessory bung options added to the tank in virtually any location. The outlet can be moved wherever you want but the most popular choices are listed. The outlet itself can be configured for standard hose (1.25" OD) or -16 male flare.

NOTE: Made to Order - Contact for ETA - If you are interested in a specific design that varies from this, please email us at sales@tractuff.com. If you have questions related to the configuration or options... PLEASE visit the WHATS WHAT or FAQ page. The cap bung has a 1/16" NPT port for connection to an overflow and uses early model Honda radiator caps; such as an 88'-91' Civic/ CRX or 90'-93' Integra. If you are using AN lines, I recommend designing the upper radiator hose so that there is droop/ give... so the engines movement and does not push/ pull on the radiator and fatigue any parts.
The billet neck has a 1/2" NPT heater port but I only include a plug in the hardware kit due to the 90° hose fitting not fitting once welded. If you need a heater port, contact me after buying, to have a 1/2" NPT bung welded to the back of the tank for $30. The tank is welded so that it sits level when bolted to an engine leaned back 15° (OEM position) for the traditional option and leaned forward 8° (intake side) for the gangster lean mount option. 
Reviews