TracTuff RBB/ RBC Water Neck - V2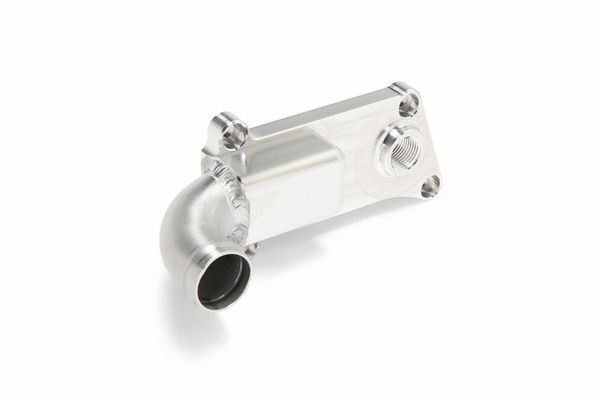 TracTuff RBB/ RBC Water Neck - V2
Essentially an OEM replacement upper water neck for the K24A, K24A2, K24A4, K24A8, and K20Z3 when going into a chassis that originally came with a K20A, K20A2, K20A3, K20Z1, and K24A1. Originally made for a customer that wanted to reuse the PRB/ PRC style upper radiator hose in his RSX.

The billet K series water neck flange eliminates the bulky OEM piece with its huge heater core fitting and EGR provision. The RBB/ RBC water neck assembly starts with a beautifully machined 6061-T6 aluminum flange that incorporates the largest port possible within the OEM gaskets footprint, a welded 1.25" tube that mimics the OEM PRB/ PRC outlet position, and a 1/2" NPT heater port. The hardware includes four M8 stainless steel socket head bolts, a 90° heater hose fitting, a plug in the event you don't plan on connecting a heater hose, and as of 8/1/20 a Genuine Honda gasket. 

NOTE: Made to Order - Ships Same Day IF Ordered before 11 am PST - If you are interested in the filler neck version (not pictured) it is made to order and will go on the calendar with all other fab work. If you are interested in a specific design that varies from this, please email us at sales@tractuff.com. The filler tube is welded so that it sits level when bolted to an engine leaned back 15° (OEM position) for the traditional option and leaned forward 8° (intake side) for the gangster lean mount option. 
Reviews