TracTuff M20 to AN Adapter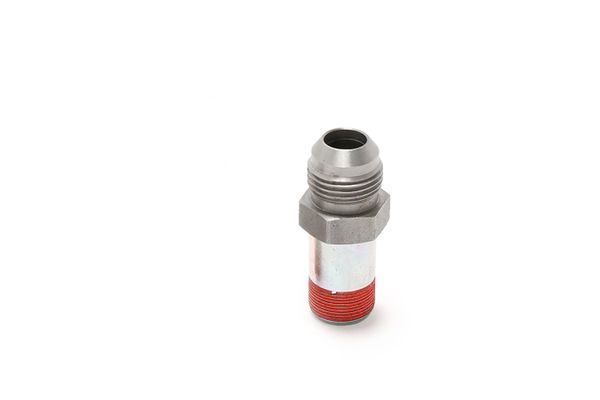 TracTuff M20 to AN Adapter
Previously only offered as a "by word of mouth" product, is now available on the website to streamline the purchasing process. Rather low demand mixed with four different male flare sizes means these M20 to AN adapters will continue to be made from brand new Genuine Honda joints that have been machined and welded.
The M20 joint was originally originally used on the right rear corner of the k series PRB/ PRC/ and PPA cylinder heads to route coolant to the heater core assembly. Customers that would be interested in this... are those that are looking to feed coolant to something, like a turbo or a water to oil type oil cooler, or vent to a swirl pot or header tank.
I purchase these new, machine the hose barb and hex off, and weld your choice of a -6, -8, -10, or -12 male flare. Understand that we are dealing with imports and therefore metric connections... which nothing matches up perfectly too if you're trying to reconnect to OEM style hose elsewhere; not to mention that different hose types have different inside (ID) and outside (OD) dimensions. I offer these but it is up to you to make them work... here is a bit of helpful info to assist you with you selection. 
-6 is equal to a metal tube with an OD of 3/8" (.3750"), -8 is equal to a metal tube with an OD of 1/2" (.5000"), -10 is equal to a metal tube with an OD of 5/8" (.6250"), and -12 is equal to a metal tube with an OD of 3/4" (.7500"). Know that not all "AN" hose is the same and there will be variances for manufacture to manufacture as well as in different types of hose from the same manufacture. XRP Pushlock hose has an ID of 3/8" for -6, 1/2" for -8, 5/8" for -10, 3/4" for -12 but XRP CPE or XR-31 hose has an ID of 11/32" for -6, 7/16" for -8, 9/16" for -10, 11/16" for -12. Please consider the k series thermostat port adapter or the k series water passage adapter to complete the coolant loop.
NOTE: The OEM zinc finish and thread paste shown does not survive the welding process and will look different from the product photographed. Product is machined and welded as orders are placed... so allow for a few days for the order to ship. All sales are final on this item. You will want to plate or paint this fitting to keep it from rusting.

Reviews