TracTuff K20/ K24 Electric Water Pump Conversion Kit - Complete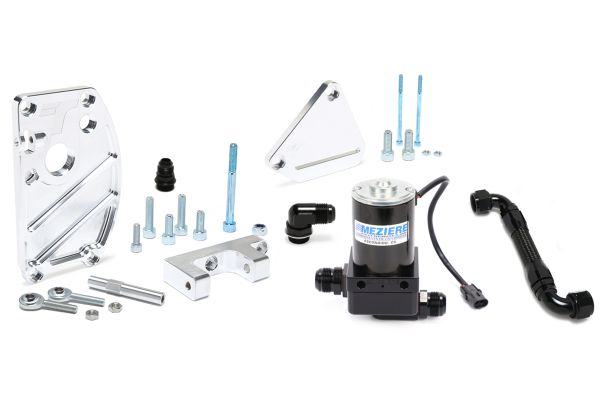 TracTuff K20/ K24 Electric Water Pump Conversion Kit - Complete
UPDATE: Product shipping 1/2/23 and on will have three NEW changes that are not reflected in the images or description below. The alternator bracket is considerably bigger/ stronger and the pivot point has been moved up 3/8" to play nice with the Dailey Engineering Dry Sump kit. The plates tensioner window has been moved towards the -16 ORB port to eliminate tensioner misalignment and the the plates treaded tensioner holder has been ditched for a precision ground stainless steel pin that is a prefect fit with the rod-end. The stainless steel pin is retained by a 5/16" circlip so you will now need retaining ring pliers with a .031" or smaller tip.


The "COMPLETE" K Electric Water Pump Conversion Kit had been brought back by POPULAR REQUEST for ONE STOP SHOPPING. 
Kit Includes
TracTuff K Series Water Pump Delete Plate and Alternator Mounting Kit (If Selected)
Genuine Honda O-Ring (You Will Need Hondabond)
TracTuff 20 GPM Meziere Electric Water Pump Mount
Meziere 20 GPM Electric Water Pump - On Sale!!
TracTuff Pump Inlet/ Outlet Port Fittings
-16 Pump to Water Pump Delete Hose Kit (2 x 90° Fittings + Length of -16 Hose)
-16 90° ORB to Male Flare Plate Inlet Fitting
TracTuff -8 ORB to -8 Male Flare Breather Port Fitting
TracTuff S2000 Alternator Reducer Bushing (If Selected)
All parts have always been listed individually because everyone always seems to have a different idea of what "complete" is OR don't want certain components... which makes it INCOMPLETE. If you aren't interested in a complete kit, visit the following pages K Water Pump Delete listing, 90° ORB to Male Flare, -8 ORB to -8 Male Flare, WP136S Pump, WP136S Pump Mount, and WP136S Pump Hose Kit and choose your products.
Regardless if you buy the complete kit listed here or not... I recommend you visit each link above for full product description details. I'm not going to cut and paste each product description and turn this product description into a 5 page story that wont get read.
Reviews