TracTuff K20/ K24 Electric Water Pump Conversion Kit - Package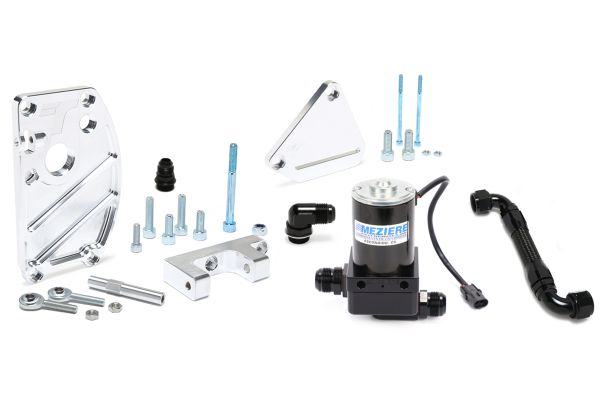 TracTuff K20/ K24 Electric Water Pump Conversion Kit - Package
The "PACKAGE" K Electric Water Pump Conversion Kit is just a streamlined way of buying all the components. If you want more control over what is and is not included OR if you would like to read each products description, please scroll to the end of this product description to see each products individual link.
Package Includes:
TracTuff K Series Water Pump Delete Plate
Alternator Mounting Kit (If Selected)
Genuine Honda O-Ring (You Will Also Need Hondabond)
TracTuff 20 GPM Meziere Electric Water Pump Mount
Meziere 20 GPM Electric Water Pump 
TracTuff Pump Inlet/ Outlet Port Fittings
-16 Pump to Water Pump Delete Hose Kit (2 x 90° Fittings + Length of -16 Hose)
-16 90° ORB to Male Flare Plate Inlet Fitting
TracTuff -8 ORB to -8 Male Flare Breather Port Fitting
TracTuff S2000 Alternator Reducer Bushing (If Selected)
In January of 2023 I made three changes/ improvements that I would like to highlight.
I redesigned the alternator bracket so that my product would play nice with the Dailey Engineering Dry Sump kit. From what I am told... this is the only kit with an alternator that works with their beautiful design.
As a result of moving the alternator upwards, the delete plate tensioner window has been moved to eliminate tensioner rod misalignment.
While redesigning the tensioner window I decided to ditch the M8 tensioner bolt in favor for a precision ground stainless pin. The stainless pin fits the rod end with zero slop and leave no room for threads to get bashed... introducing slop. The stainless steel pin is retained by a 5/16" circlip.
Uncoupling of the OEM K20A, K20Z, K24A, and K24Z mechanical water pump from the crankshaft offer the following benefits... 
Reduction in parasitic drag.
Free horsepower and torque.
Elimination of pump cavitation associated with water pump RPM.
Better control over cooling systems temperatures through the use of programing.
Manually override pump and fan(s) to cool the motor while the engine is off.
Space you can free up by eliminating the OEM items.
Various alternators can be used with this kit but I highly recommend the S2000 unit. The 2000-2001 DC2 Type R (B18C5) has the second highest amperage output and the 1999-2000 Civic Si (B16) comes in just below that. Understand that late model B and D series alternators with a ribbed drive pulley fit the bracket but have fewer belt ribs than the crank pulley (not a big deal being you are only driving one accessory) and even earlier alternators have a V belt. V belt alternators cannot be used unless you swap out the pulley.
So, if you are looking for the highest amperage OEM option and you are willing/ able to modify the lower mounting ear of the alternator and purchase my reducer bushing for the upper ear... the S2000 alternator is the way to go! It also conveniently has the same number of pulley ribs, natively rotates the same direction, and has the same plug as the K harness.
Due to the various K series crank pulley diameters (OEM & Aftermarket) as well as multiple alternator pulley diameters, I do not provide belts. The tensioner in this kit does allow for a wide range of adjustment, but depending on your combination and belt choice, you may need to consider XL Tensioner Turnbuckle if your tensioner is maxed out and has 80% of the rod ends threads showing. 
To determine the belt length on your own, simply wrap a string around the pulley's of the installed kit (with the alternator adjustment completely retracted), mark where the end of the string touches, measure that length and call an auto parts store with the length and number of grooves. If the number of groves are not available at that length, you can either go up to the next available length OR reduce the number if ribs.
Here are some options.
6 Rib Dayco Poly-V-Belt P/N# D5060295*
6 Rib Dayco Poly-V-Belt P/N# D5060305*
6 Rib Dayco Poly-V-Belt P/N# D5060317*
6 Rib Dayco Poly-V-Belt P/N# D5060325*
* You can use the part number to cross-reference to another brand. The "6" represents the number of ribs and the four digits proceeding it represent the length. If one of these is close but the next size is to large of a jump... look at 5 and 4 rib belt options.
This listing is a combination of multiple products that is meant to streamline the purchasing process. It represents the most common combo... if you want a different combo OR you want full product description for EACH of the products within the kit, please follow these links Water pump delete, Plate inlet fitting, -8 breather port fitting, 20 GPM WP136S electric water pump mount for the Meziere WP136S electric water pump as well as a pump hose kit.
If you want a higher flowing pump... here is the 55 GPM WP336S electric water pump mount for the Meziere WP336S electric water pump as well as a pump hose kit.
S2000 Alternator and 20 GPM Pump Shown
Reviews